E Reader Case In the Hoop
Product Code:
EREAD-22
Formats Included:
ART, DST, EXP, HUS, JEF, PES, VIP, VP3, XXX
Price: $9.99
E Reader Case in the Hoop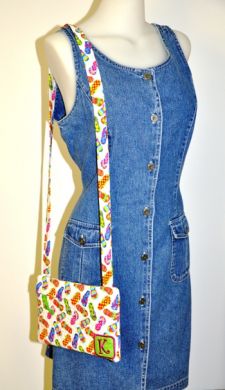 Note: The Manequin above is an adult size Small
Quilted and Monogrammed
Made completely In the Hoop
Fits Most 6x10 hoops (design size listed at bottom of this page)

Features include:
** Made in only 1 hooping - YAY!
** NO ADDITIONAL SEWING REQUIRED!
** Fully Lined!
** Zips to close! We even made the zipper overlap style so you don't even know the case has a zipper. Very tailored look!
** Pocket inside to keep your E Reader Cord from scratching your E Reader!
**Monogram letters embedded into the files - just load the design and stitch! No fussing with software - YAY!
**No Exposed seams inside

You will be amazed at how easy this case is to make and when you are done, it looks like you spent hours on the sewing machine, not just a few minutes on the embroidery machine.

Note: The optional strap shown above is NOT made in the hoop, however a pdf with complete photo instructions on how to make it on the sewing machine is included with purchase.

Don't want to sew on the sewing machine? No problem: You can also use decorative cording to make a small handle as I did on the seafoam swirly case above. It's sewn right into the design - no additional sewing required!

Don't you think these will be perfect for Craft Shows? Did you know the Kindle was the most 'gifted' present when it first came out? That means LOTS of people own E readers so everyone will want a trendy zippered case to protect it! Makes great Christmas gifts.

Every wonder how to line up patterned fabrics so the pattern matches, like we did on the flip flop case pictured? We include a pdf with complete instructions to show you how to do it!

Design Info:
Fits most 6x10 hoops including the HUS D-1 hoop. The Bernina mega hoop center can be used to stitch this design also. The design is not meant to be resized and was not created for split hoops. JEF users - this design fits the MB-4 and the 12000. It does not fit other Jef machines.

Design Size:
146.90 x 239.00 mm
Finished E Reader Case Size - 5 5/8 x 9 1/8 inches
Please make sure your hoop is large enough to stitch this design before purchasing. We can't offer refunds if the designs don't fit your hoop.

This case will fit the following E-Readers:
Kindle WiFi and Kindle 3G+WiFi - 7.5" x 4.8" x 0.335"
Kindle 2 - 8" x 5.3" x 0.36"
Nook Color - 8.1" x 5.0" x 0.48"
Nook WiFi and Nook 3G + WiFi - 7.7" x 4.9" x 0.48"
New Nook - 5.0" x 6.5" x 0.48
Kindle Fire
As with all of our In the Hoop projects, you receive complete detailed instructions (PDF) with LOTS of easy to follow photos.
This is a great design for those new to embroidery or new to in the hoop designs but it's also perfect for the seasoned in the hoop pro.
Linda V loves this design and sent this photo - Beautiful work Linda!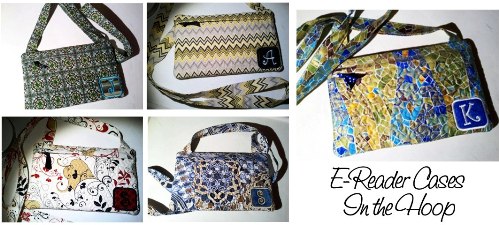 Another fun and ever so useful in the hoop project from Five Star Fonts