Mouse Pads ITH - Pieced Quilted Monogrammed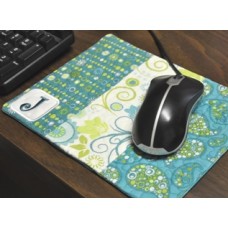 Product Code:
PQMITH17
Formats Included:
ART, DST, EXP, HUS, JEF, PES, VIP, VP3
Price: $9.99
Mouse Pads In the Hoop
Pieced - Quilted - Monogrammed
Fits 6x10, 7x12 and 8x12 hoops
We are excited to say this design is featured in the Jan/Feb 2012 issue of Designs in Machine Embroidery Magazine!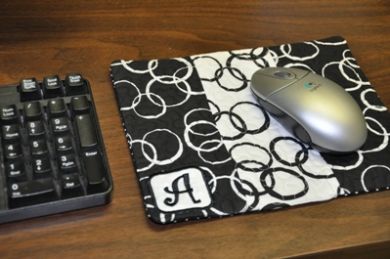 **Made in only 1 hooping!!
**Choose up to 3 of your favorite fabrics. I used 2 of my favorite fabrics above for mine.
**The piecing and quilting are all done in the hoop and are sooo easy and quick.
**These are perfect for Craft Shows - everyone will want one!
Here's one I made for my sister - I made with 3 different trendy fabrics. Hope she likes it!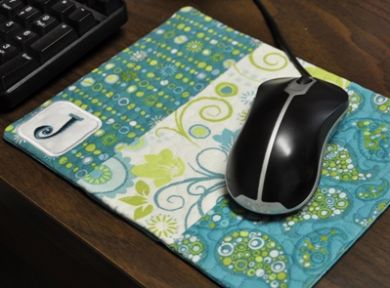 To give you an idea of the size, here's a picture of an old one and the new modern one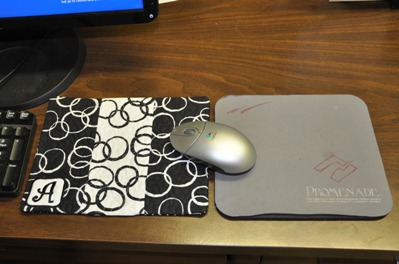 Can you tell I've been using that old thing forever - LOL
The Mouse pads are really a generous size - the 8 x 12 is shown
I've been using the mouse pad for about 2 weeks. My mouse is an optical but I also used a track ball mouse for a few days. Both mice work fine with these mouse pads.
I used patriot fabrics for him and the block lettering which is also included: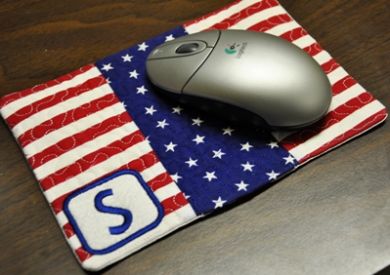 Regarding the 6x10 size (shown above) It is ample for most standard mice but is really ideal for the small travel laptop mice or for the smaller children's size mice.
I didn't have a travel mouse or a child's mouse so I am showing a full size mouse on the 6x10 mouse pad. The travel mouse is about 1/3 smaller than a regular mouse and child's mice are similar in size to the travel mouse.
We've included both a Gal and a Guy font in the package. Bold Curlz for the gals and a bold block print for the guys.
And of course the letters are embedded right into the files so no fussing with software - just load the design and stitch!
Here's what all the Gal letters look like (Bold Curlz):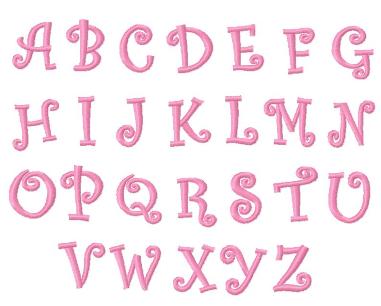 And here's what all the Guy letters look like (Bold Block):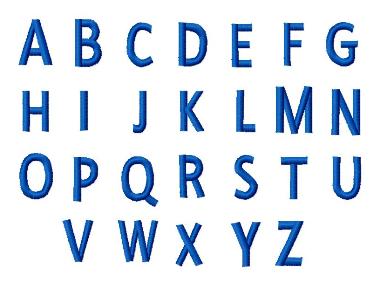 Caution - Making these EASY pieced quilted ------- can be very addictive!

Please make sure your hoops are large enough for these designs as we can't offer refunds if the designs don't fit your hoop. NOTE: These are not designed for split hoops

Design Sizes included:
--6x10 (150x240) - 5.72 x 8.26 inches (145.40 x 209.80mm) Yes it fits the HUS D-1 hoop
--7x12 - (180x300mm) - 6.82 x 9.00 inches (173.20 x 228.60mm)
--8x12 - (200x300mm) - 7.61 x 9.75 inches (193.20 x 247.60mm)

Finished Sizes:
150 x 240 - 5 5/8 x 8 inches
180 x 300 - 6 7/8 x 8 3/4 inches
200 x 300 - 7 1/2 x 9 1/2 inches

BLANK DESIGN with monogram patch is included along with a blank which doesn't feature the applique patch, perfect if you don't want to customize with a monogram.

As with all of our In the Hoop projects, you receive complete detailed instructions (PDF) with LOTS of easy to follow photos.

This is a great design for those new to embroidery or new to in the hoop designs but it's also perfect for the seasoned in the hoop pro. Everything is done in the hoop. There is only one tad bit of hand sewing required to close the opening. However, I used heat n bond to close the opening which makes it a no sew project!!! You can also top stitch around the edges if you don't like hand sewing.

Another easy and useful in the hoop project from Five Star Fonts