Mini Composition Book Cover In the Hoop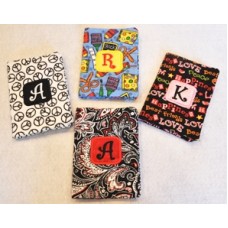 Product Code:
COF17
Formats Included:
ART, DST, EXP, HUS, JEF, PES, VIP, VP3, XXX
Price: $9.99
Mini Composition Book Cover
in the Hoop
for the 5x7 hoop!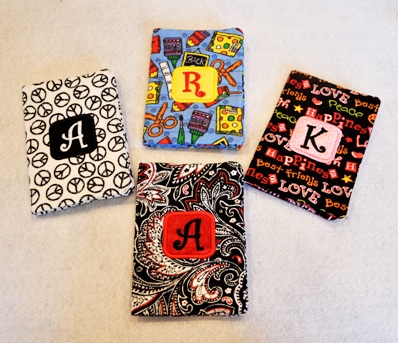 Fun, fast and EASY!
For the 5x7 hoops
And did I mention there is NO additional sewing required?
4 DIFFERENT TYPES OF QUILTING TOO!
Stipple, Diamond, Channel Vertical, Channel Horizontal
2 DIFFERENT STYLES OF LETTERING!
Girly Curlz and Bold Block
Cute and Practical
Made completely In the Hoop in ONLY 1 HOOPING with NO additional sewing!
Fits most 5x7 hoops (130x180mm) Design and finished cover sizes are listed further down this page.

Monogram letters embedded right into the files - NO FUSSING WITH SOFTWARE
2 styles of monogram lettering included (yes all letters embedded into files)
You receive both Girly Curlz and Block for the guys!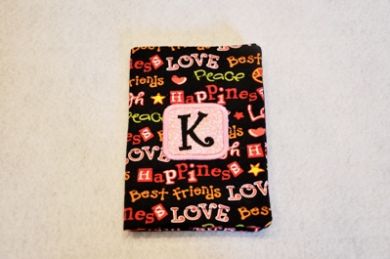 Use cute cute fabric - teens will love to slip one of these into their backpack!

Congrats to Angela J. who suggested this design idea.
Because we used her idea and created the design, she got the set FREE.
Do you have a design idea? Send them to:

designideas@fivestarfonts.com

If we use your design - you receive it absolutely FREE
Turn these: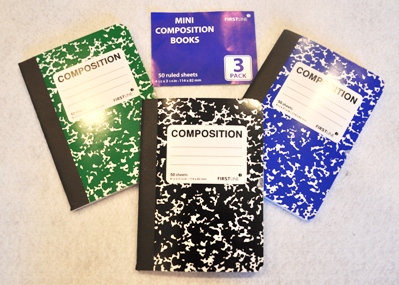 into these: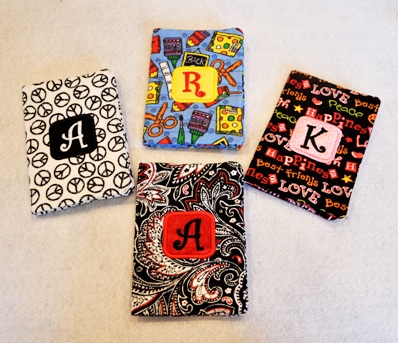 Perfect Christmas gift for the teacher!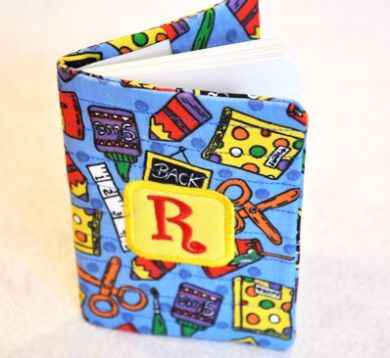 I love the bright fun Back to School fabric! The photo above includes the Mini Composition Book cover along with our pocket calendar cover which is available separately (see link at bottom of page).
You could use your favorite themed fabrics - customize your cover to fit your sport or activity!
You will be amazed at how easy (and fast) these are to make.
Design Info
Fits 5x7 (or larger) hoops
Design Size: 5.09 x 7.01 inches
129.30 x 178.10 mm
Finished cover size:
6 7/8 x 4 5/8 inches
Please make sure your hoops will work with these designs as we don't offer refunds if your hoops are not large enough to stitch the designs!
***********************************************
PLEASE READ THIS BEFORE PURCHASE
By purchasing this in the hoop cover design you agree that you have read the following disclaimer: This cover fits the Mini Composition Books that measure 4 1/2 x 6 1/2 inches when opened and laid flat. The front cover (front only) measures 4 1/2 x 3 1/4 inches. These particular composition books are readily available at most Dollar Tree stores, set of 3 for only $1.00!
THIS JUST IN - A CUSTOMER IN NC SAID SHE FOUND THESE 3 MINI COMP BOOKS AT DOLLAR GENERAL - SAME BOOKS, BUT THEY ARE $1.25 AT DOLLAR GENERAL. ANOTHER SOURCE TO FIND THEM!!
Also, just in from a customer in New England - these books are available 3 for $1.00 at Job Lots.
If you use Mini Composition Books from other sources, please be sure to measure them. If they are larger than 4 1/2 x 6 1/2 when opened and laid flat, they will not fit this case. We can only guarantee Mini Composition books with measurements listed above will fit this case.
For those of you who don't have access to Dollar Tree stores, we do offer these Mini Composition Books for sale on the website. Quantities are limited. See the link in Related products at bottom of this page to find out more.
********************************
Here's what all the Girly Curlz letters look like that are embedded right into the files: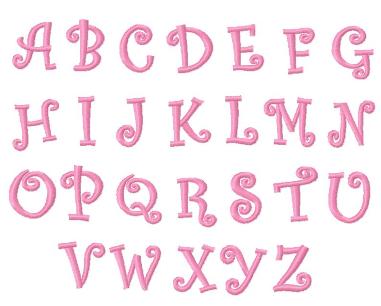 And don't forget we also include a 'manly' Block font too, perfect for guys.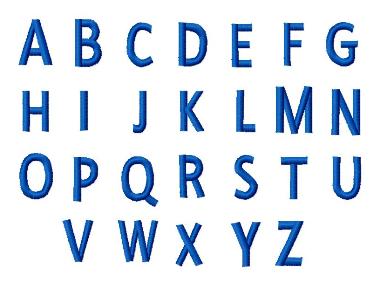 As with all of our In the Hoop projects, you receive complete detailed instructions (PDF) with LOTS of easy to follow photos.
This is a perfect project for those new to embroidery or new to in the hoop designs. The seasoned pro will love how fast and easy they are to make!
Another fun, fast, easy and useful in the hoop project from Five Star Fonts