Click It Monogram Bookmarks
Product Code:
CLIR17
Formats Included:
ART, DST, EXP, HUS, JEF, PES, VIP, VP3, XXX
Price: $9.99
Click It Monogrammed Bookmarks

A Five Star Fonts Exclusive Design

Magnetic bookmarks made completely in the hoop in only 1 hooping and for the 4x4 and larger hoops!
I've had lots of requests for 4x4 sized in the hoop projects so I'm happy to introduce our latest Five Star Fonts Exclusive design: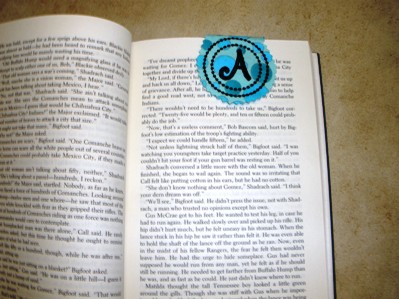 OK, I'm sure you are asking yourself - why these are called "Click It" Bookmarks. It's because they are constructed with small magnets that click and hold when placed on a book page! Uniuqe, clever and super easy to make! And the best part - EVERYTHING is done in the hoop - NO additional sewing is required - YAY!

I ALSO INCLUDE INFORMATION ON THE SIZE MAGNETS NEEDED AND WHERE TO GET THEM, in the instructions. I found them at 4 hardware stores in my home town so they are easy to find!

Make these bookmarks with the monogram included - yes all the Monogram Caps are embedded into the files - no fussing with your software! Or use the blank designs included and show off your favorite themed fabrics. I made this coffee bookmark for me :) And I also included instructions on how to center your themed fabric in the middle of the bookmark so it turns out perfect everytime.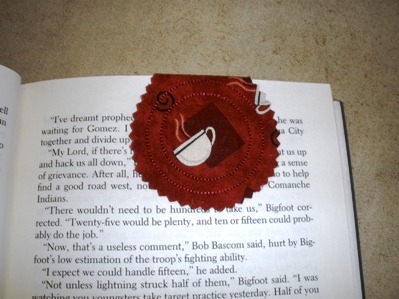 The design set comes with 2 types of finishing stitches - a super cute Dotted finish and a triple stitch finish. Here's an example of both: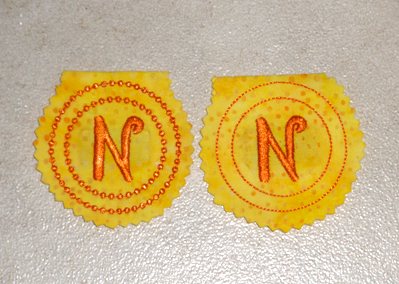 Use themed fabrics for the sports fan - Jessica is getting her own monogrammed soccer bookmark: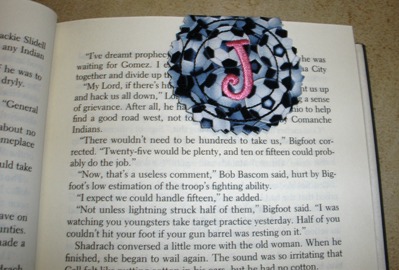 Do you know a pirate lover? I couldn't resist making one with this awesome skull and cross bones fabric: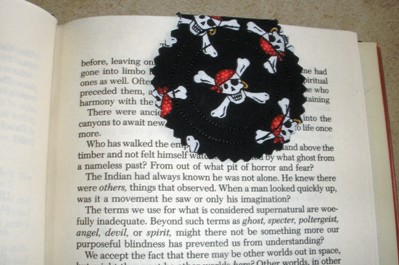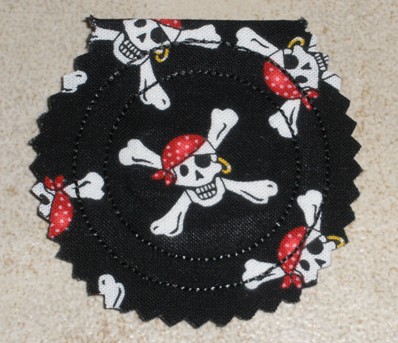 So QUICK and Easy. The blank triple stitch design only has 1,049 stitches - talk about fast - you can make it in about 5 minutes from start to finish!! The blank dotted design only has 2,407 and the average stitch count on the monogrammed dotted designs is about 3,000 while the triple stitch monogram files average about 2,000 stitches. The design size measures 1.98 x 3.69 and when folded to place on a book page, the circle measures approximately 2 1/4 inches around. These are lightning fast to stitch.
Speaking of Monogram letters, here is a picture of all the bold Cap letters (and don't forget they are already embedded into the bookmark designs).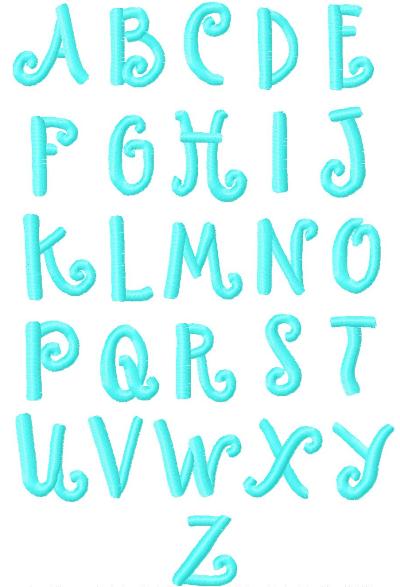 Have a big hoop? Combine several designs into your large hoop and stitch a bunch at a time. Perfect for craft shows. I made quite a few of these for samples but to be honest - several are for friends and family for Stocking Stuffers :)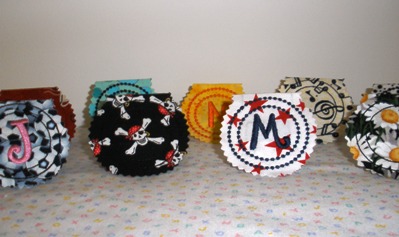 As with all of our in the hoop projects, complete instructions with lots of pictures included in the package (PDF).
Another Exclusive, quick and unique in the hoop project from Five Star Fonts