Quilted Candle Mats In the Hoop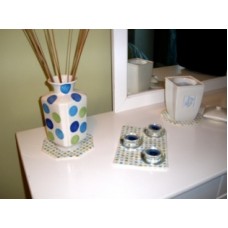 Product Code:
candle
Formats Included:
ART, DST, EXP, HUS, JEF, PES, VIP, VP3, XXX
Price: $9.99
Quilted Candle Mats
Made completely in the hoop with NO additional sewing required!
Fun, Lightning Fast and oh Sew Easy
Designs fit 4x4, 5x7, 6x10, 7x11 and 8x12 Hoops
(can also be used as coasters, trivets, doilies, pet food mats and many other uses!)
You are going to love this design set!
JUST IN - Francisca bought the design set and two hours later she emailed the following:
A must have design - Quilted Candle Mats
I just bought the quilted candle mats and is SSSS00000 EASY! Get all your scraps and with this design it will all be gone and all you have left are cute mats and coasters. I made a set in less than 10 minutes! Regards from the Netherlands, Francisca
Sew Fast and Easy and NO ADDITIONAL SEWING REQUIRED. All you need to create any of these candle mats is a little fabric, a little batting and your embroidery machine. Even though they are made completely in the hoop with no additional sewing, they look as if you spent hours making them on the sewing machine. I won't tell it took less than 15 minutes to stitch one!
A total of 120 design files are included in this package.
You receive 5 shapes including Square, Rectangular, Round, Octagon and Oval.
Each shape comes in 5 sizes (4x4, 5x7, 6x10, 7x11 and 8x12).
Each size and shape also comes in 4 different quilting patterns, stipple, wavy, geometric and diamond.
And these are not just for candles either! The 4x4 size is perfect for coasters: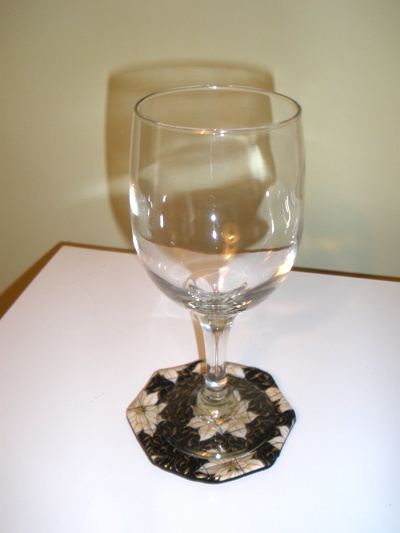 The large sizes are terrific for pet food mats: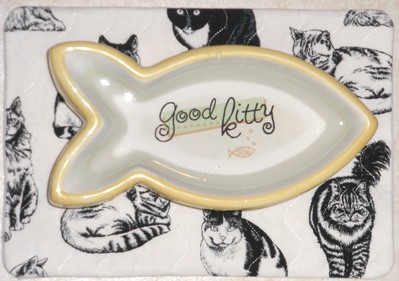 These designs are all about fabric. Here's a set I made for my guest bedroom. The octagon shape doubles as a doily for the vase while the round one holds a big candle jar and the rectangular style holds 3 votive candles. (Don't you love how the dotty fabric matches my dotty vase :)
and here's a close up so you can see the some of the shapes: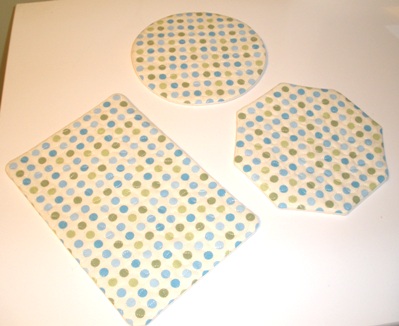 I'm giving this Blueberry Muffin Yankee Candle as a Christmas gift for a friend. I just happened to have some blueberry fabric in my stash that's a perfect match - Great Quick Gift!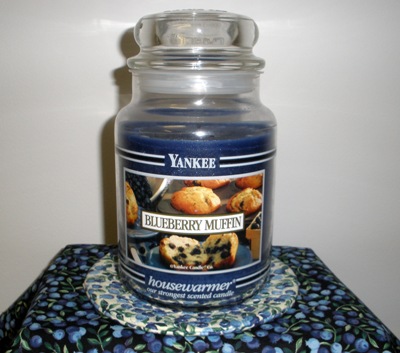 You also receive Square and Oval designs in the set. Here's an oval I stitched for my bedroom: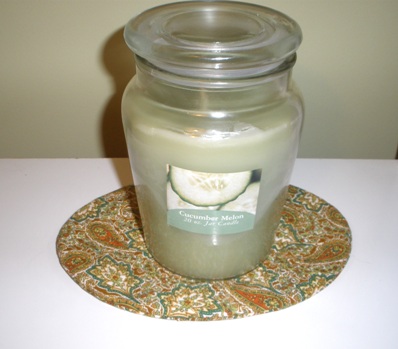 I love the aspen tree candle holder and I used Southwest print and a geometric quilting stitch: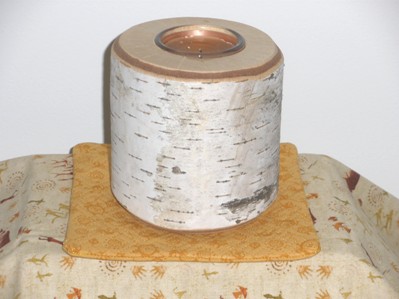 Here's a close up of the nice geometric quilting stitches: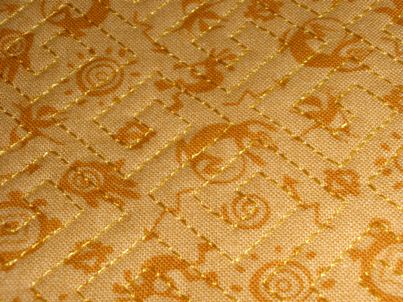 So to recap, the set includes 5 shapes of Candle mats - Oval, Round, Rectangular, Octagon and Square
5 hoop sizes included (in each shape) - 4x4, 5x7, 6x10, 7x11 and 8x12
4 Styles of quilting in each shape and size - Stipple, Diamond, Geometric and Wavy. - 120 designs in the set!
These sew up so quick and easy. I'll bet they will be a hit at CRAFT SHOWS!!!
PERFECT FOR LAST MINUTE GIFTS - purchase an inexpensive candle, make a themed mat - instant beautiful gift!
As with all of our in the hoop projects, complete Easy to follow instructions (with lots of how-to pictures) are included in the package.
Another Fun and Unique In the Hoop Project from Five Star Fonts, for all your embroidery needs.