Photo Book Cover In the Hoop Brag Book 5x7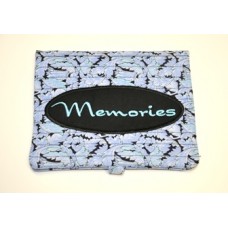 Product Code:
5X7Q17
Formats Included:
ART, DST, EXP, HUS, JEF, PES, VIP, VP3, XXX
Price: $9.99
5x7 Photo Book Cover - Brag Book
in the Hoop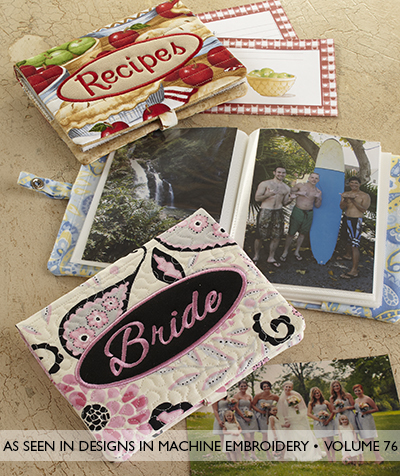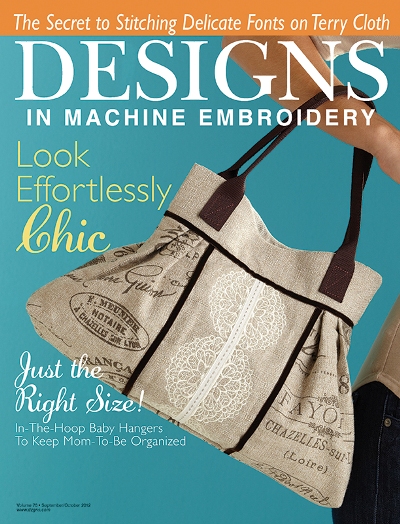 Fun, fast and EASY!
Fits most 5x7 or larger hoops
Note: We also offer this project in a single hooping style for the 7x11 hoop.
If you have a 7x11 hoop, you should purchase the single hooping design.
Link to the 7x11 single hooping design can be found at the bottom of this page under 'related products'.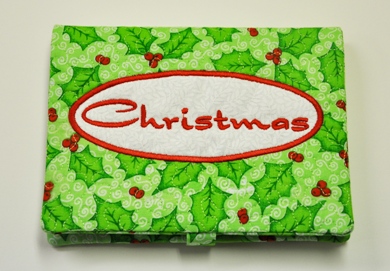 These will make excellent stocking stuffers or easy last minute gifts.
Because a photo book cover is larger than 5x7 hoop, this design is made in 2 hoopings and then finished with 3 straight line stitches that you will use a sewing machine for. Although it takes 2 hoopings, it is very easy to complete!
3 DIFFERENT TYPES OF QUILTING TOO!
Stipple, Channel Vertical, Channel Horizontal
20 DIFFERENT "Sayings" to customize and organize your photos!
Blanks included too so you can use your own sayings, names or monograms
Cute, inexpensive and Practical in the hoop project!
If your holiday budget is tight this year with the economy, this project offers a wonderful way to give a meaningful gift at a very reasonable price (and quick to make too!).
Turn these not so pretty $1.00 photo books:
into these stylish photo books:
Design and finished cover sizes are listed further down this page.

NO FUSSING WITH SOFTWARE
All sayings are embedded right into the files and blanks included too!
Use snaps or button/elastic cord to close the book. Instructions included for either method! Or stitch it without a closure, it's all up to you!
Everyone will appreciate receiving a pretty and stylish photo book cover!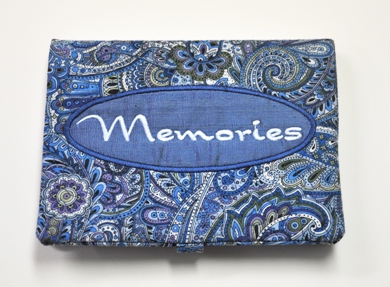 Use cute cute fabric like this pink and black skull fabric - teens will love to give these to friends as gifts!

Notice we use a fabric tab for the snap - We show you how to do it - no trying to match ribbon to your fabric - just use the same fabric so it perfectly coordinates - The tab is NO SEW and complete instructions to make it are included in pdf with the set.
Congrats to Debbie H. who suggested this design idea.
Because we used her idea and created the design, she got the set absolutely FREE.
Do you have a design idea? Send them to:
designideas@fivestarfonts.com

If we use your design to create a project - you receive the set absolutely FREE
Use the sayings design (first photo above) or blank quilted design and your favorite themed fabrics - customize your cover to fit the photos inside.
Great way to organize photos and fun way to use cool themed fabrics!!
Here is what it looks like when it is open. Notice the tab has a snap on it for closure and it closes on the back as to not take away from the saying on the front. If you don't like snaps, no problem - we also show you how to make them with elastic cord and sew on a button!
This is my favorite sample so far - I love the paisley fabric. And the oval applique is a scrap of raw silk fabric, very elegant. My hubby said it was a timeless photo book. He doesn't comment much about my creations so I was very pleased!
You will be amazed at how easy (and fast) these are to make. Caution - they are addictive!
Design Info
Fits most 5x7 (or larger) hoops
Design Sizes:
5.00 x 6.92 inches
127.20 x 175.50 mm
Finished cover size:
6 1/2 x 10 1/2 inches
Please make sure your hoop is large enough to stitch this design as we don't offer refunds if your hoops are not large enough to stitch the designs - no exceptions!
***********************************************
PLEASE READ THIS BEFORE PURCHASE
By purchasing this in the hoop cover design you agree that you have read the following: This cover fits the standard 4x6 photo books you can easily find at Wal-mart and on-line sources. The books I used to create this design measure 9 3/4 x 6 5/8 inches when opened and laid flat. The front cover (front only) measures 4 5/8 x 6 5/8 inches. These particular photo books are readily available at most Wal-mart Stores for only $1.00 each. I found them in both the photo frame aisle and the office supplies/calendar section. They hold 36 photos!
If you use Photo Books from other sources, please be sure to measure them. If they are larger than when opened and laid flat, they will not fit this case. We can only guarantee Photo books with measurements listed above will fit this case.
********************************
Here's all the sayings we include in this set - yes, there are 20 of them plus a total blanks (just quilting) and a blanks with applique oval for you to add your own saying, name, etc.) Don't forget - 3 styles of quilting included - stipple, channel vertical and channel horizontal. We also include total blank designs (no applique oval, just quilting in 3 styles of quilting so you can add a design, your own font or just leave it blank and show off pretty fabric!)
As with all of our In the Hoop projects, you receive complete detailed instructions (PDF) with LOTS of easy to follow photos.
Another fun, fast, easy and useful in the hoop project from Five Star Fonts - Perfect for Christmas gift giving.
Like the font we used for the sayings? It's our Mariposa font. Link is in related products below.