Vintage Princess Bundle
Product Code:
Vintage-Princess-Bundle
Formats Included:
ART, DST, EXP, HUS, JEF, PES, VIP, VP3, XXX
Price: $11.99
Vintage Princess Bundle
6 Different Designs in Multiple Sizes
4x4, 5x7, 6x10, 7x12, 8x8 Hoops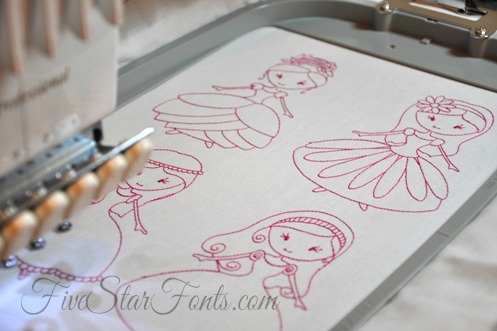 These stitch so cute and lightning fast!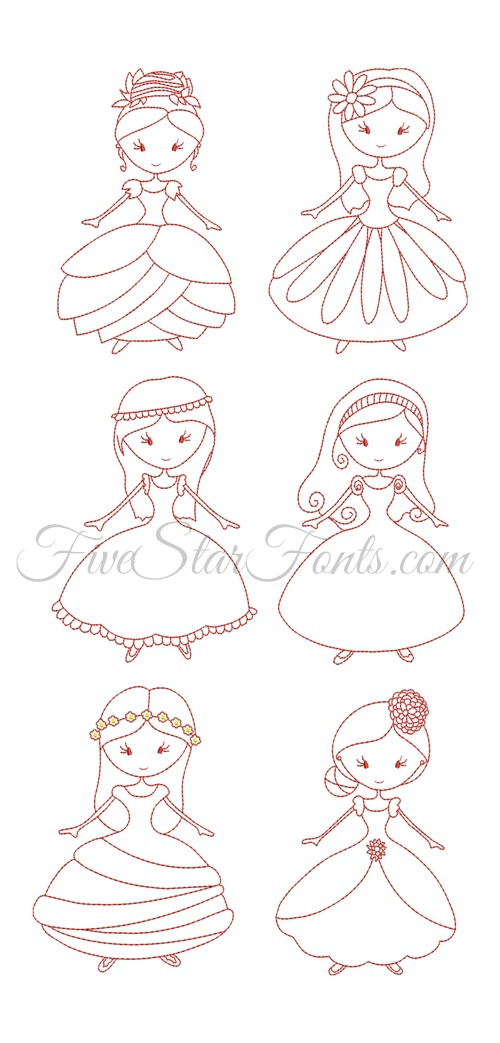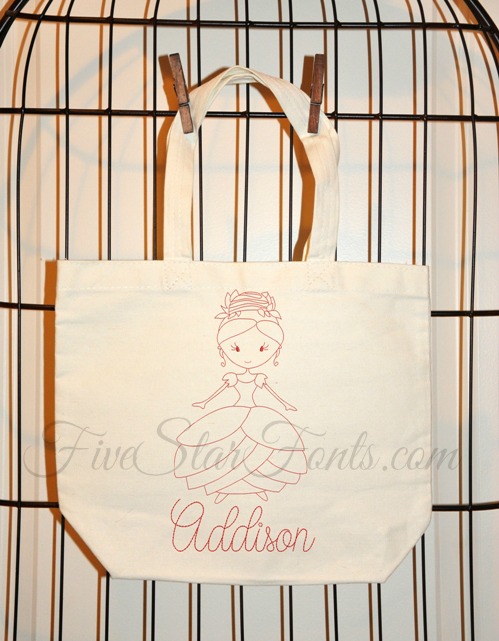 Vintage embroidery is so fast and easy. Lightning Fast to stitch, these designs are perfect for quilts, wall hangings, totes, tea towels, framing for your little princess's room, etc. We used our Handstitch Vintage font for Addison's name. You can find the link in Related Products tab above.
Designs Sizes/Stitch Counts:
All designs come in 4x4, 5x7, 6x10, 7x5, 7x12, 8x12, 8x8, 10x6 Sizes and Stitch Counts listed below are in this order
Princess 1 - 3.88x2.41 SC 1584; 6.95 x 4.31 SC 2544; 9.09x5.65 SC 3155; 4.94 x 3.07 SC 1960; 11.17x6.95 SC 3794; 11.59x7.20 SC 3929, 7.50x4.66 SC 2792, 5.94x3.70 SC 2243
Princess 2 - 3.89x2.71 SC 1674; 6.94x4.84 SC 3060; 8.10x5.65 SC 3202; 4.95x3.45 SC 2109, 9.96x6.94 SC 3771; 10.96x7.65 SC 4172; 7.50x5.23 SC 3011; 5.95x4.15 SC 2365
Princess 3 - 3.88x2.53 SC 1264, 6.94x4.52 SC 2021, 8.67x5.65 SC 2489; 4.95x3.22 SC 1519; 10.67x6.95 SC 3056; 11.59x7.55 SC 3376; 7.50x4.88 SC 2180; 5.95x3.87 SC 1787
Princess 4 - 3.89x2.80 SC 1457; 6.89x4.95 SC 2223; 7.86x5.65 SC 2523; 4.95x3.56 SC 1728; 9.67x6.95 SC 2996; 10.44x7.50 SC 3209; 7.50x5.39 SC 2425; 5.95x4.28 SC 2008
Princess 5 - 3.89x2.45 SC 1621; 6.95x4.38 SC 2375; 8.96x5.65 SC 2809; 4.95x3.12 SC 1863; 11.03x6.95 SC 3278; 11.60x7.31 SC 3429; 7.50x4.72 SC 2470; 5.95x3.75 SC 2136
Princess 6 - 3.89x2.74 SC 1578; 6.95x4.89 SC 2575; 8.03x 5.65 SC 2871; 4.95x3.48 SC 1939; 9.87x6.95 SC 3374; 10.66x7.50 SC 3627; 7.50x5.28 SC 2694; 5.95x4.19 SC 2290