Easter Basket Stakes 2
Product Code:
EBS-2
Formats Included:
ART, DST, EXP, HUS, JEF, PES, VIP, VP3, XXX
Price: $9.99
Easter Basket Stakes 2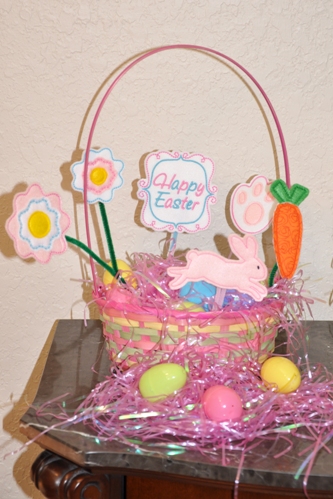 Easy In the Hoop Project for the 4x4 and 5x7 hoops
Super quick and easy, our latest Easter designs are so fun to make. A little bit of felt (we used inexpensive craft felt), a few chenille stems (pipe cleaners) and you're ready to start decorating Easter Baskets with these cute designs.
Easter Basket Stakes 2 contains these designs in 3 Sizes (unless otherwise noted)
**Layered Flower
Sizes: 2.98 x 3.01, 3.90 x 3.93, 4.83 x 4.87 inches
**Easter Bunny Foot
Sizes: 2.39 x 2.97, 3.04 x 3.77, 4.03 x 5.00 inches
**Carrot (4 Sizes)
Sizes: 1.25 x 3.11, 1.62 x 3.91, 2.05 x 5.06, 2.85 x 6.93 inches
**Happy Easter Deco Frame Sign
Sizes: 3.74 x 3.76, 4.38 x 4.40, 4.85 x 4.87 inches
**Running Easter Bunny (both left and right facing designs included)
Sizes: 3.90 x 2.51, 4.78 x 3.08, 6.95 x 4.48 inches
Here's another view of them, before they went in the basket: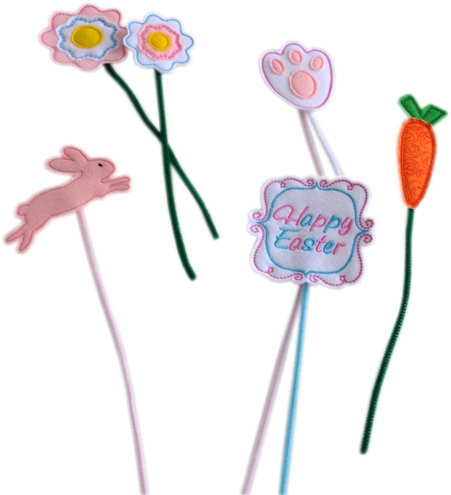 As with all of our in the hoop projects, complete instructions are included.
Don't forget we also have Easter Basket Stakes 1 set which you can find under the Related Products tab above.
Here's a photo of both sets using 2 Easter Baskets: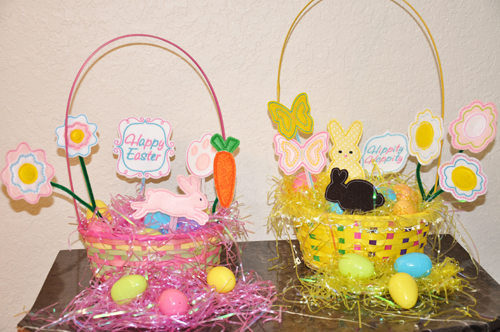 Another fun and easy In the Hoop Holiday Design set from Five Star Fonts