Project Showcase 41
Project Showcase 41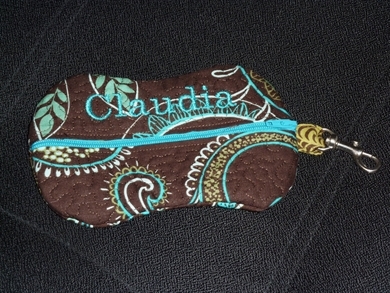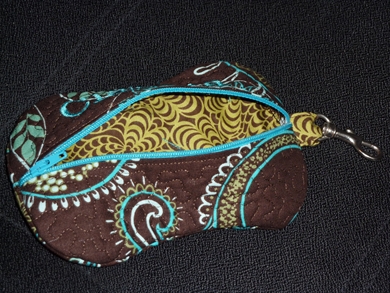 Unique Zippered Quilted Case in the Hoop
Keri T. says "so much fun to stitch out.  I thought the directions and pictures were great!  Thanks."
FSF says:  Great job, Keri.  I love your choice of fabrics.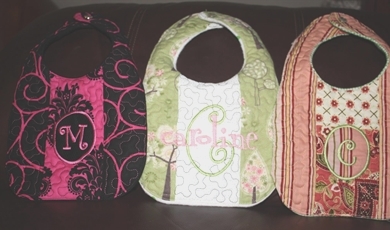 Monogrammed Pieced Bibs in the Hoop
Michelle C. -- I bought this design yesterday and made these today.  They are beautiful!  I love the way they turned out!  I will be making lots of these in the future.
FSF:  Michelle,  quick turnaround with excellent results.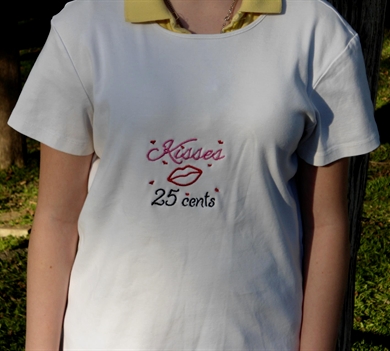 Kisses 25 Cents Applique
Amazing Stitch -- Thanks for the design!!  I put it on a shirt to start ... This is only the beginning!!  Thanks again!!
FSF:  There are so many options, aren't there?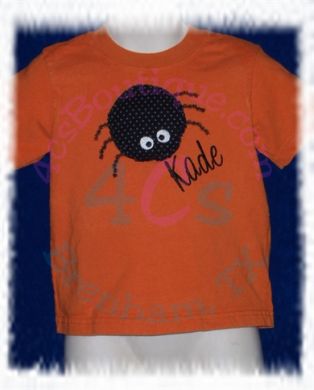 Raggy Spider Applique
Darling shirt sent in by 4Cs Boutique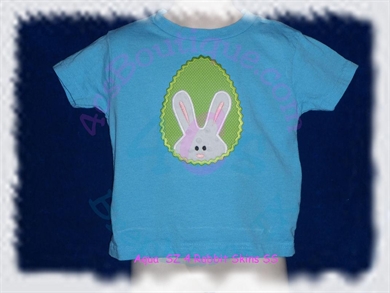 Ric Rac Bunny Egg Applique
Another super cute shirt sent in by 4Cs Boutique
FSF:  I love your tee shirts, 4Cs Boutique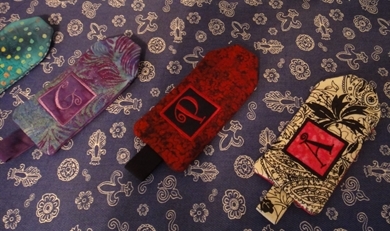 5x7 Quilted Monogram Pocket Key chain
Marti L. -- pocket key rings I made
FSF:  Great job, Marti.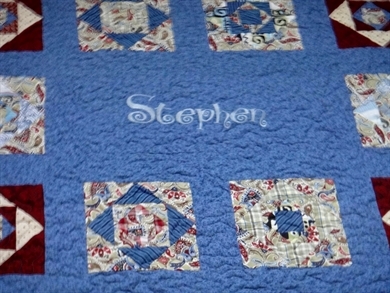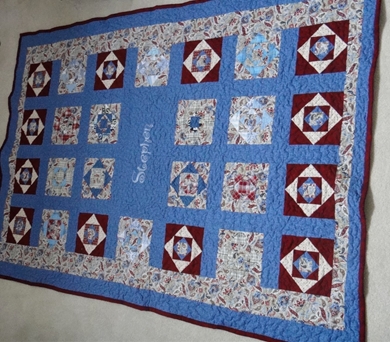 Boingo Font
Marti L. says "This is a quilt I made with in-the-hoop quilt squares and the Boingo Font  -  I love this font.  Many of the quilt squares include fabric from shirts our grandson used to wear.  We lost him nearly 3 years ago when he was 13."
FSF says:  What a wonderful (& beautiful) tribute to your grandson, Marti.  This will become a family heirloom, I'm sure.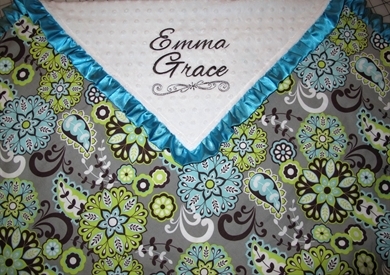 Pretty Script Font
Natalie E.  --  A  blanket I made for my daughter using your pretty script!
FSF:  Natalie, I'm sure your daughter loved this beautiful piece!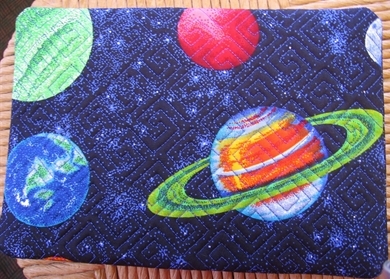 Quilted Pieced Mouse Pad in the Hoop
Penny W. -- Hubby says "Um...can I please have my mouse pad back?"  I say "No, if you want one, make one" ... so he did ... just like mine!  If anyone says embroidery is just for women ... they are WRONG
FSF:  How cool is this, Penny!  He really did an excellent job.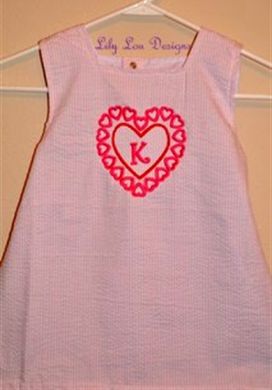 Heart Monogram Font
Lily Lou Designs -- Love this Valentine frame
FSF:  Nicely done!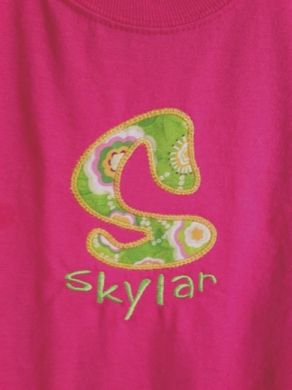 Giggles Applique Font
Dawn C. sent this in
FSF:  Fun font, Dawn, & great job!

Life Sentiments
Terri P. sent this photo-- I LOVE the Life Sentiments!  Here's a picture with some framed over my bed.  I ended up going back and tacking in a felt flower -- sorry I don't have pictures before the flower addition.
FSF:  What a great presentation, Terri!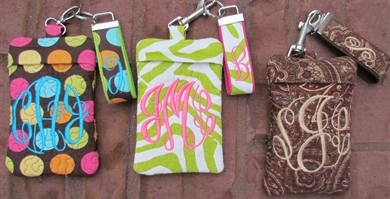 5x& Zippered Case in the Hoop
Tina J. -- Great design!  Thanks
FSF:  Love your fabric choices, Tina.  Nicely done.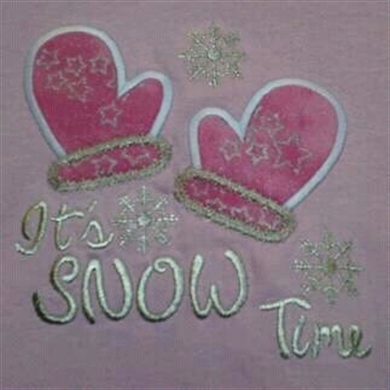 Mittens Applique
Lisa B. -- Actually took some time to make myself a new tee shirt using one of the designs from FSF.  My son gave me a gift certificate from here for Christmas and I am having fun spending it!  Glad you offer gift certificates, Anita!!!
FSF:  You can never go wrong with a gift card, Lisa.  Glad you are enjoying spending it.  & great choice for your tee shirt.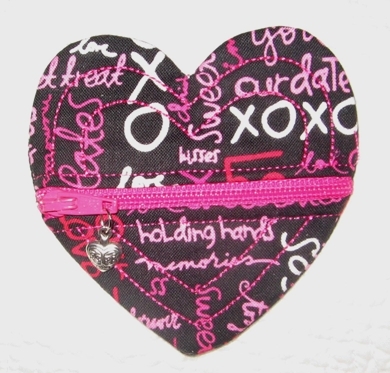 Free Heart Coin Purse In the Hoop
Jenny G. -- Thank you -- Love it!  Sews out quick and easy!
FSF:  We love those quick & easy projects!  This one turned out great.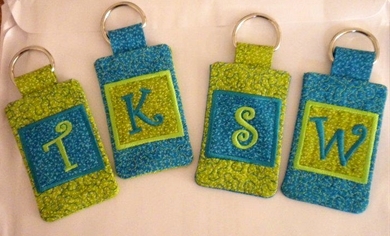 4x4 Monogrammed  Pocket Key Chain
Wendy H. sent in these terrific Key Chains.
FSF:  I love the fabrics, Wendy.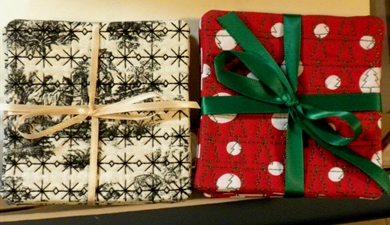 4x4 No Sew Coasters
Wendy H. has been busy making more in the hoop projects! 
FSF:  Love the Coasters!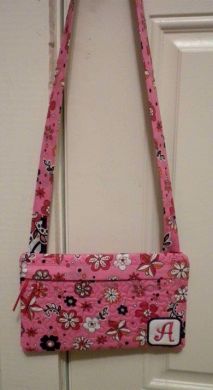 E Reader Case in the Hoop
Wendy H. sent this in -- Hipster for a 5 year old. 
FSF:  It's a great E-Reader Case but it's the perfect Hipster purse too!  Great job and great fabric.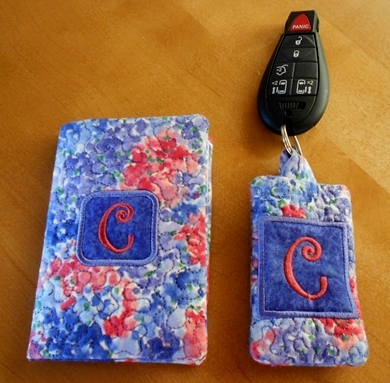 Mini Composition Book Cover in the Hoop -- 4x4 Monogrammed Pocket Key Chain in the Hooop
This set was sent in by Cindy S.
FSF:  Nicely done, Cindy.  LOVE the fabrics.