Project Showcase 40
Project Showcase 40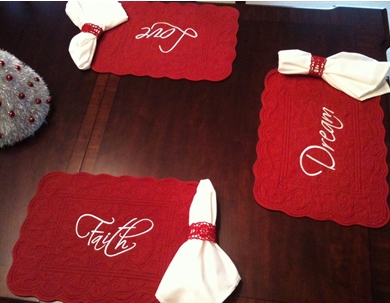 Sent in by Vickie S.
FSF: Really pretty, Vickie! What a great idea using these designs on placemats. Beautiful table.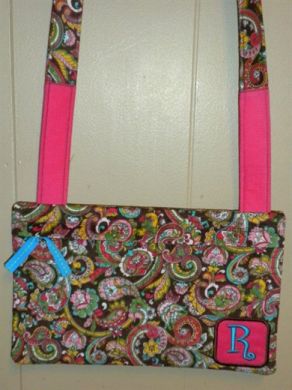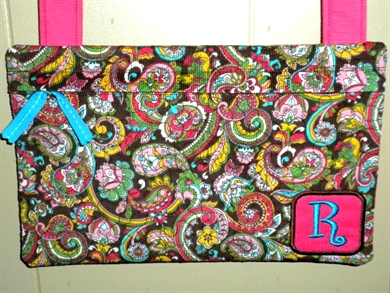 Wendy H turned the e-reader case into a little Hipster purse for a 12 year old.
FSF says - too cute Wendy. Fab fabric!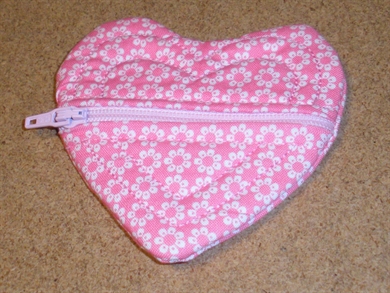 Pam P. -- Thank you for the cute coin purse. Very easy to make. I love all your creations!
FSF says 'You are welcome Pam, so glad you like this FREEBIE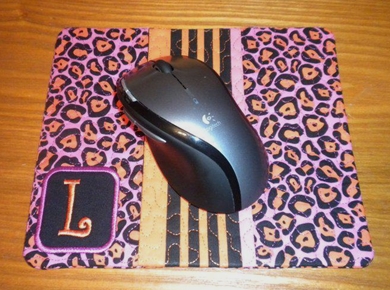 Monogrammed Quilted Mouse Pad
Too cute mouse pad from Wendy H.
FSF says - AWESOME fabric choices - LOVE it Wendy.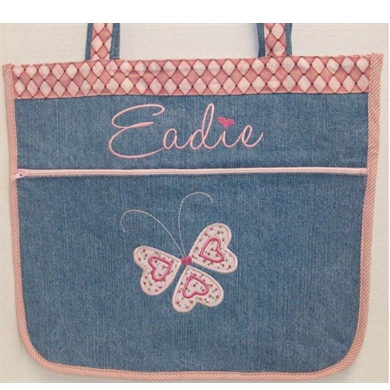 Nancy H. made this beautiful Diaper Bag using our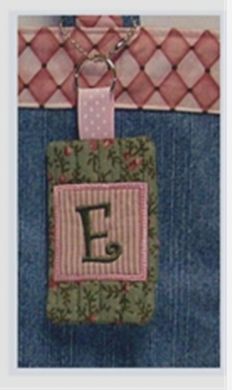 Nancy H. said:
I used Five Star's Flutter Hearts to embellish a diaper tote for my Stepdaughter. and then added the pocket key fob so she could tuck away reminders & shopping for the baby. Thanks for great designs, Anita.

FSF says 'Thank you for sharing Nancy - great idea to include the key chain with the Diaper Bag. It makes a darling set.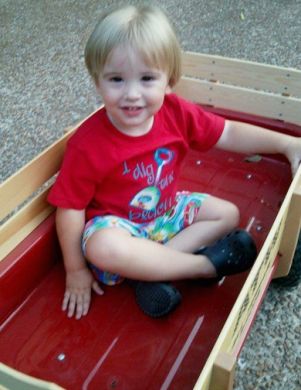 Wendy H. -- I dig the beach outfit I made for my sweet grandson! He wore it on his first trip to the beach!
FSF says 'AWWWH he is adorable and I hope he had fun on his first beach trip - he is definately decked out for it!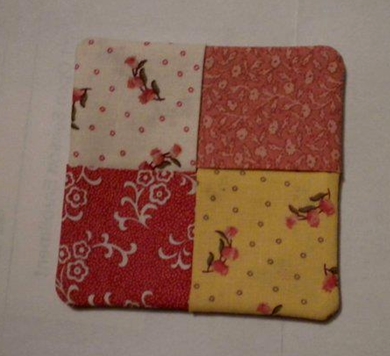 Wendy H.
FSF says - Love the coasters Wendy - nice choice of fabrics!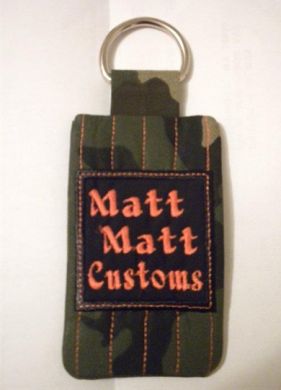 Wendy H. -- Custom key chain made with the blank
FSF says - great job Wendy.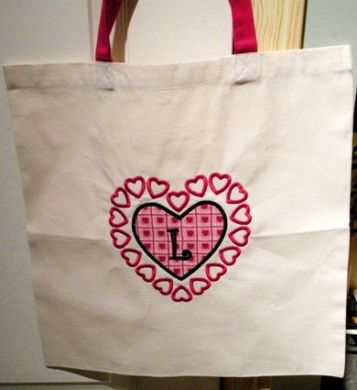 Pam P. is going green! She said 'I placed this great Font on a reusable tote for my granddaughters birthday present.. instead of a paper bag. I love it!!!"
FSF says - I love it too Pam - great job!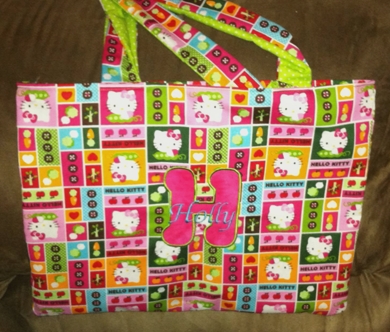 Tabbetha H. sent in this photo - she said 'A bag for one of my daughters friends. I loved the way the Bubble Love stitched'
FSF says - Thanks for sharing your photo Tabbetha - LOVE it.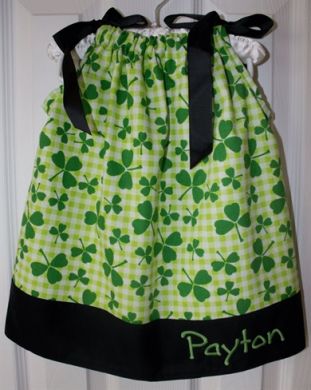 FREE Freaky Font
Amanda K. used our FREE Freaky Font to add Payton's name to this darling St. Patrick's Day pillowcase dress !
FSF says - Awwww Amanda that is sew cute!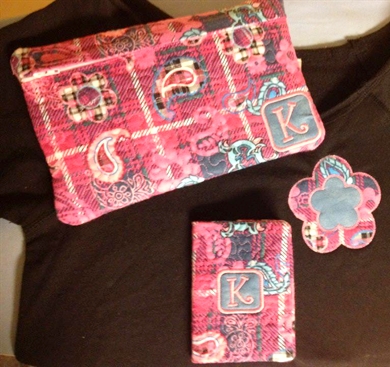 Lisa K. shared a photo and said 'I think I'm addicted to Five Star Fonts. This is a birthday gift for my neice - Mini Composition Book Cover, eReader Case and free Flower Frame on the shirt. Thank you for the great designs Anita :)
Here's a close up of the mini composition book.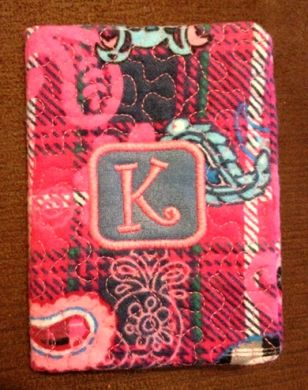 FSF says - Thank you Lisa for sharing a great set - hope your Niece loves it!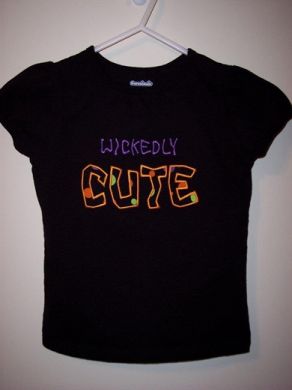 Sew What's Going On? shared this photo.
I wanted to share this with you even though it obviously isn't that time of year. I did this several months ago and forgot to share it with you. I used the Bedrock font and I thought it turned out really cute. It's not too often that I spell things with applique letters.
FSF says - LOVE THIS - it turned out perfect!

Janetta G. -- Not the clearest photo, but wanted to share. I love this font! :)
FSF says - Thank you for sharing Janetta - The valentine shirts are beautiful!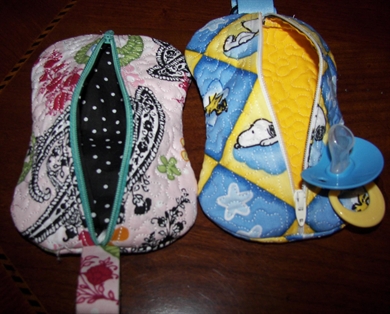 Brenda L. -- Fun to make, very easy directions to follow..Thanks Anita
FSF says - Great Job Brenda Love the fabric choices
Becky C. -- This is the free raggy quilt heart I got from Five Star Fonts! I just had to make myself a Valentines shirt. I love it!
FSF: Sew cute, Becky!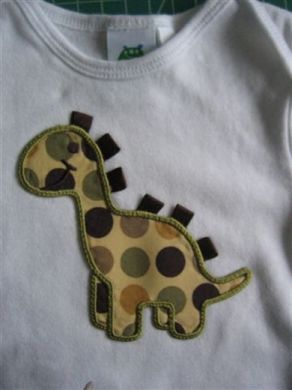 Free Darling Dino Applique
Donna H. -- Thought I'd send you a picture of what I did with your free dino applique. I didn't sew the first color but added ribbon pieces for the bumps on his back. Because it was polka dot fabric, I didn't stitch the spots either. I did it as an iron on and used Gunold Heat n Seal to adhere it so no roughness against baby. Love how it turned out. Your designs are great and stitch so well. Thank you!
FSF: Great ideas, Donna, for 'making it your own'! It really turned out well.