Project Showcase 36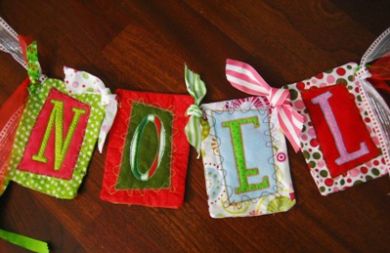 Toni B. shared this wonderful banner she made using our Artsy Banner Font.  Toni said she added her own buttonholes on the sides so that she could tie them together with ribbons.  I love this Toni - great way to use the design set.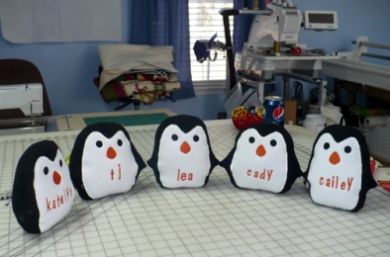 OH My are these not the most precious little family of Penguins!  Kat R. sent these in and she made them using our Penguin Snugglies and matching Applique.  She added the names using our Stacked Lower Case Font 10    I'm smiling - just darling Kat.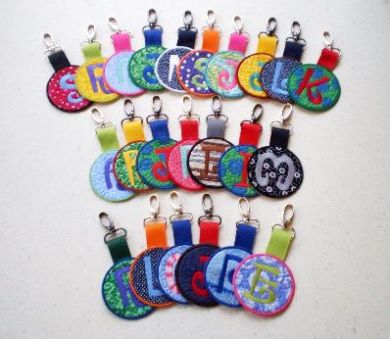 These are awesome - Mary F. used our Initial it fun tags and here is what she said:  "Hi Anita, attached is a photo of your quilted monogram tags my daughter and I did for her third grade classmates and teacher for a school project.  First we emailed each student asking for their three favorite colors, then embroidered a tag for each of them.  My daughter then typed a short report on the history of embroidery through the ages, made a short video of her doing an ID tag, and then surprised her classmates with their own personal tag.  She had a great time, and so did I.  Thanks for great embroidery fonts and projects!" Mary and third grade daughter.   Mary, all I can say is WOW - she did all of that and she's just in the third grade!  Awesome and so happy to see crafting being passed on to your daughter.  Thanks for sharing the photo and the story behind it.
Dotty Curlz    Love the Zebra print tote that Betsy M. did for a friend.  Here is what she said:  I gave this to a friend for her birthday.  The bag was purchased from Discount Embroidery Blanks.  She seems to really like it.  I noticed she brought it to church Sunday.  I really like the Dotty Curlz Embroidery Font.  Stitches beautifully.  Thank you for sharing your work Betsy.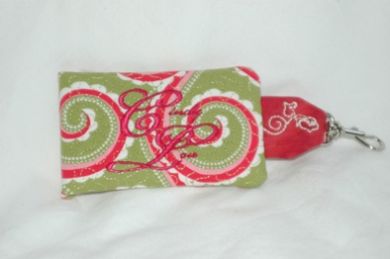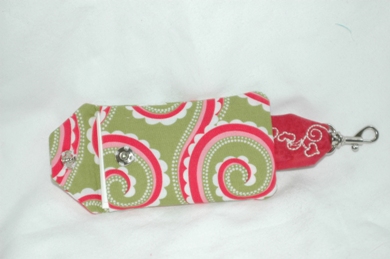 -5x7 Pocket Key chain       Cindy made this nice 5x7 key chain.  She wanted to 'customize' it so here is what she said:  I am so excited about having your designs.  All the girls at work are asking me to make them one! Please find attached an image of the Key Faub-ulous! that I made for me.  The changes or "additions" were to decorative stich the tab so it would never come apart even after using the wonder under and suing the full name instead of just an initial.  No one can have one exactly like yours - especially if you have an unusual name.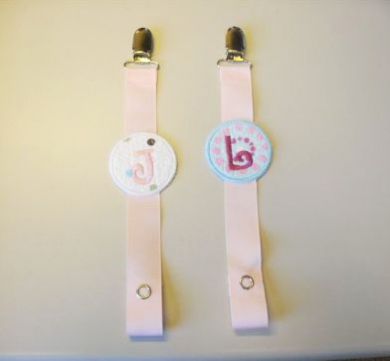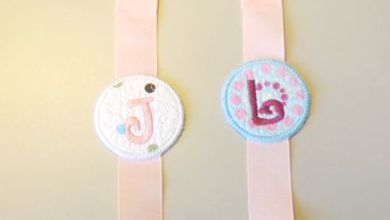 Initial it Fun Tags       Jacque found a very creative way to use the small size of our Initial it Fun Tags.  here is what she said:  I just had to share these pictures.  I made these pacifer clips using your small Initial it tag and I omitted the gromet at the top.   Oh goodness Jacque what a great way to use the design.  LOVE IT.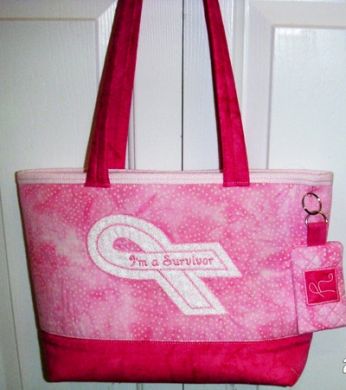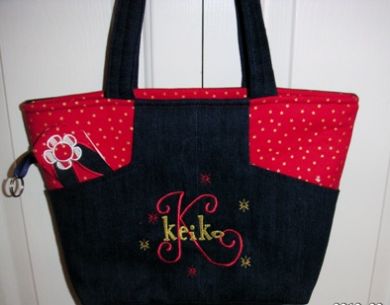 Look what Cathy R. did with our FREE Survivor ribbon design.  That's an awesome bag Cathy.  And while she was creating, she made another tote with Big and Bold Monogram Font for Keiko.  Great job on everything.  Thanks for sharing!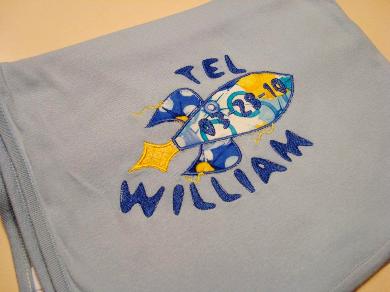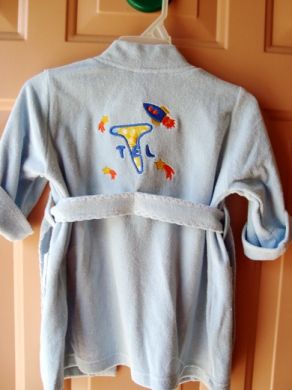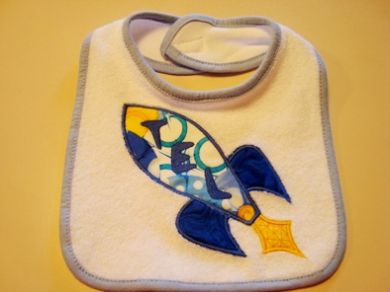 Out of this world Font       Look what Jodie H. did.  She used our Out of this world font with mini designs on the back of Tel's bathrobe.  She also used the lettering on a sweet blanket and bib which she embellished with a rocketship design she had in her stash.  Great job on all Jodie.  Thanks for sharing.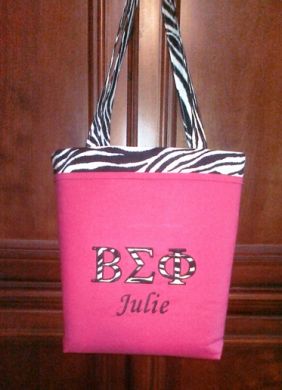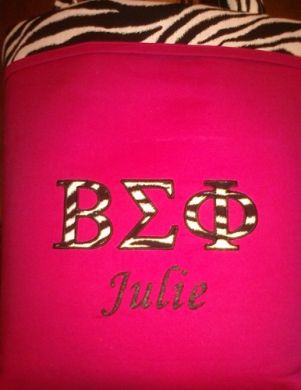 Lorrie O. made the nicest sorority bag, don't you think.? She used our Greek Applique Font  Awesome work Lorrie.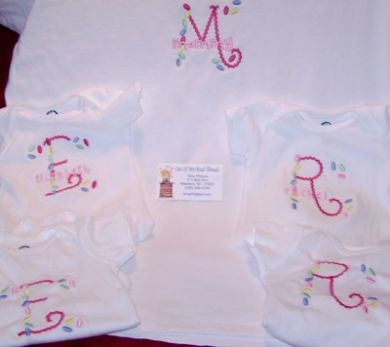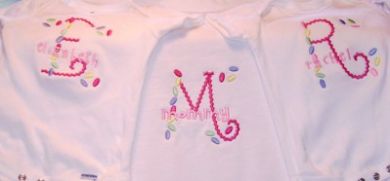 Here's what Terri P. said about what she did with our Ric Rac Jellybean Font "I made these for a friend's daughter and her 5 month old twins.  Too cute!!!!  Just love jelly beans and ric rac".  Great job Terri.  I love the way you did "Mommy" on the shirt.  Cute cute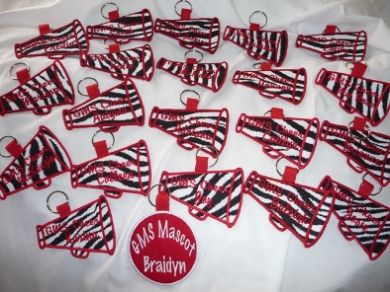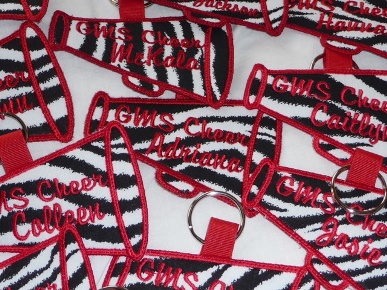 Can you believe what Sharon M. did?  She suggested the design idea for our Cheerleader Megaphone Tags which we created (she got the design free for submitting the design idea!).  Can you tell she had a project in mind?  Oh my Sharon - love them all.  Great job for the Cheer team.
SEND YOUR DESIGN IDEAS TO
designideas@fivestarfonts.com
If we use the idea you get the design set absolutely FREE