Project Showcase 35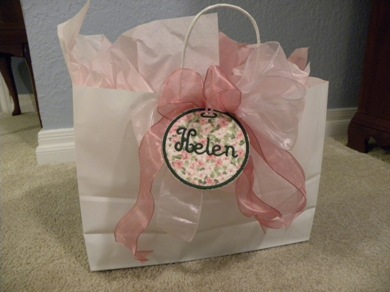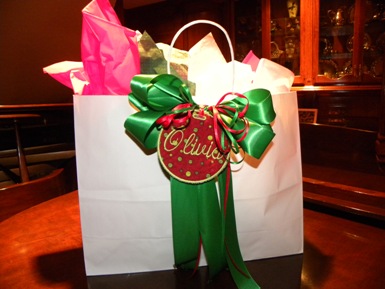 Alice C.  made some beautiful gift tags using the blank from our Initial It Fun Tags In the Hoop set.  Very pretty Alice - nice way to customize gift bags.  Alice used a font she had in her stash for embroidering the names.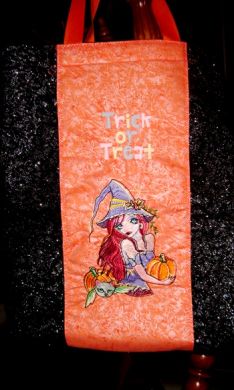 Isn't this an awesome Treat Bag for Halloween?  Coni M. used our Scribbles Font for the lettering.  The design is from BFC Creations.  Coni said she used glow in the dark thread. on the lettering.  LOVE it.  Great job.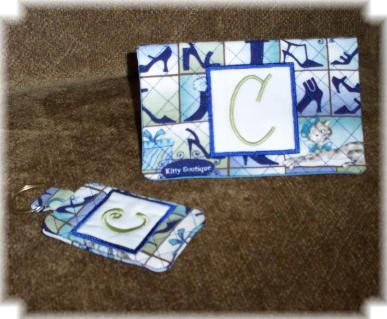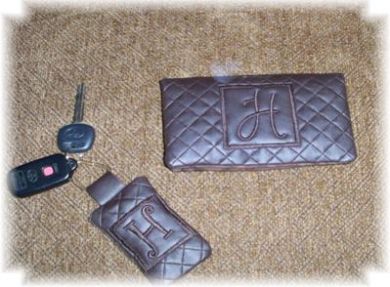 Marjorie H. experimented with faux leather fabric for this nice 'manly' 4x4 Pocket Key Chain and Checkbook Cover.  Love it Marjorie.  Oh and she also made a girly one too.  Love your fabrics.  Great job on all.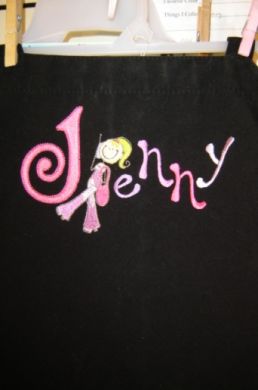 I love the apron Karen M. stitched using our Trendy Diva Sticks Monogram Font designs.  Karen said "I hope you like the way I used them. I have had lots of compliments."  Yes, love the way you added the design into the name - very trendy!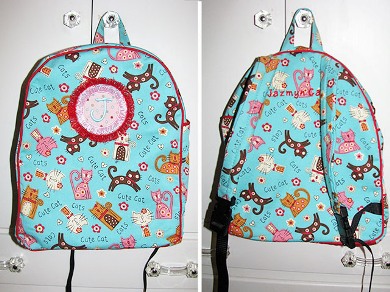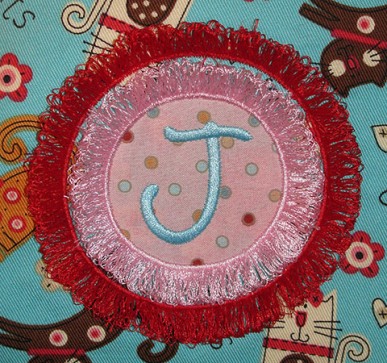 Pam C.  made this darling backpack and personalized it with our
Fringed Monogram Font
.  I love it Pam.  Darling fabrics and great job on the backpack.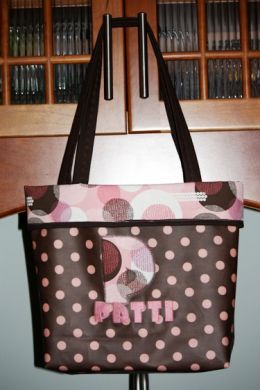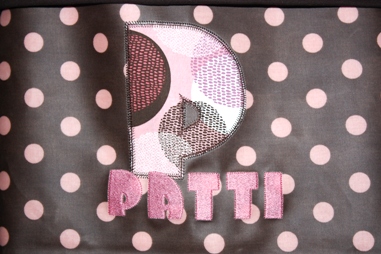 Patti L. made this beautiful bag for herself.  Isn't it stunning?  She used our Plumpy Applique Font  with matching lower case lettering.  Great job Patti.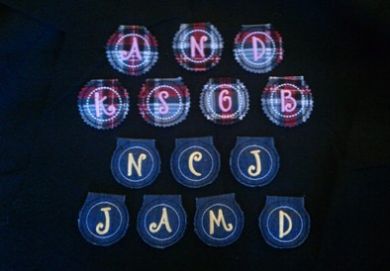 Renee M. made girl and guy bookmarks using our Click it Bookmarks In the hoop project.   Love the plaid for girls and denim for guys.  Renee said "On the girls I just put down a large piece of fabric so I got them done in no time! I used scraps for the denim ones.  I will be making more for my friends too. Love this design!!!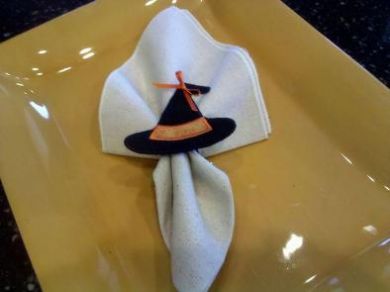 Tippi R is at it again!  She said:  These Witch Hat napkin rings were done using Witch hat applique design from this site. I used the smallest design but still reduced it a bit using my Babylock. Embroidered on black felt...they'll be the treat for my Halloween dinner table.  I agree Tippi - wonderful way to use the design.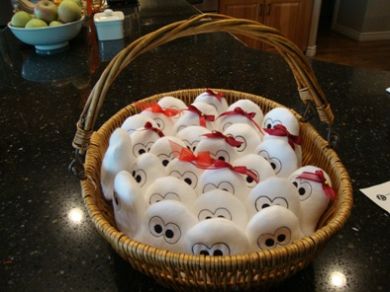 Tippi R didn't stop with the Witch Hat Napkin rings either!  She made this darling Basket of Boos as she calls them, using our Ghost Snugglies.  You can't help but smile!  Great job (again) Tippi!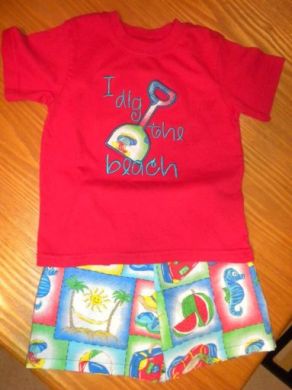 Oh my this is sooo cute.  Wendy H. made t his darling beach outfit.  She used our I Dig The Beach applique design.  Cute Cute Wendy.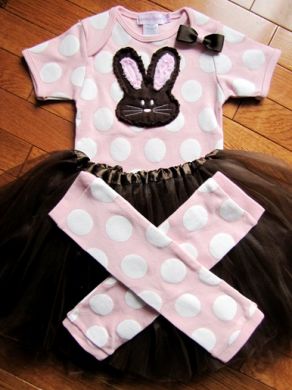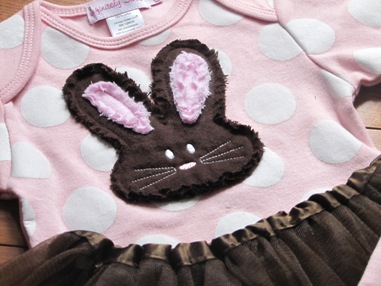 Raggy Easter Bunny     Terri says "I'm attaching pics. of a chocolate raggy bunny.  The onesie & coordinating tutu & legwarmers I used came from Infinitely sweet.  I LOVE the chocolate bunny!  I plan to try a pink bunny over the weekend, on a white shirt, with light brown ears.  Why not?  I've gone raggy crazy!  Thanks again so much.  I am your biggest raggy applique fan!  LOL   I love something new & different that adds dimension to an embroidered piece!"