Project Showcase 26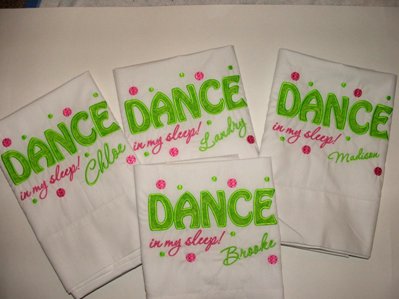 Shannon B. does wonderful work. Here she used our Hipster Applique Font for Dance pillowcases - Terrific (as usual) Shannon!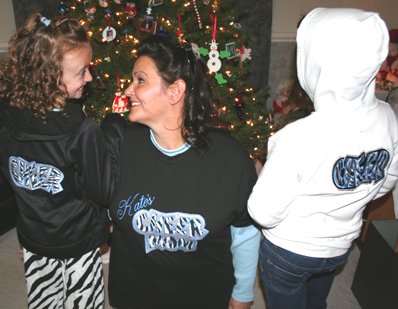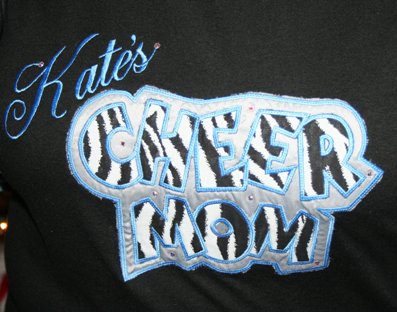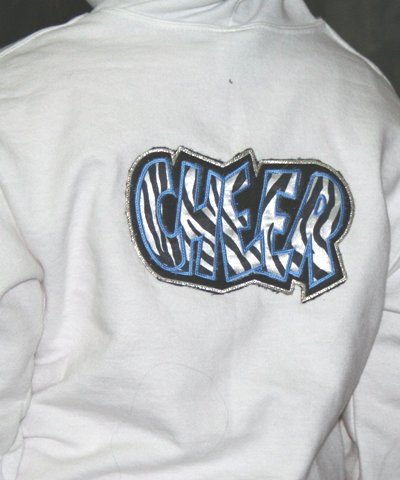 Barbara L. of Ladybug designs used our
Exclusive CHEER Double Applique
on the hoodie backs and our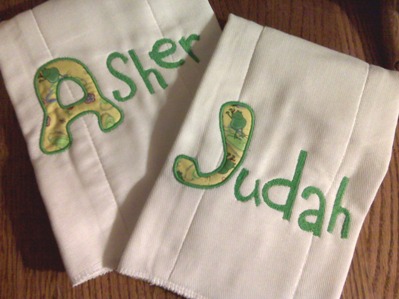 Muffyn H. made these cute burp cloths using
Silly Nilly Applique Font
for the Cap letter and a font from her software for the lower case. Love them Muffyn!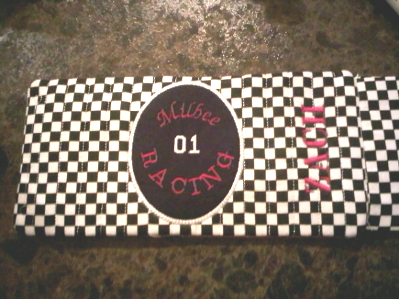 Tammy K made this terrific Koozie for her Nephew's Racing Team using our
Wrap It Up-Quilted Monogram Can-Bottle Koozie Wraps
. Your black and white racing flag fabric is PERFECT for this project!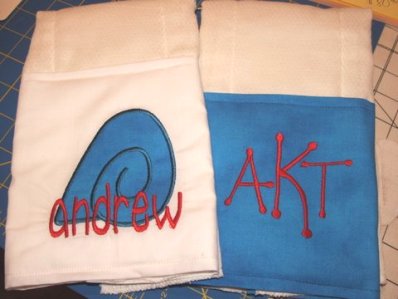 Do you recognize Shannon B's work? Here she used our
Snips & Snails Applique Font
on Andrew's burp cloth and our
Cool Dots Font
for the 3 letter monogram. Perfect as usual Shannon!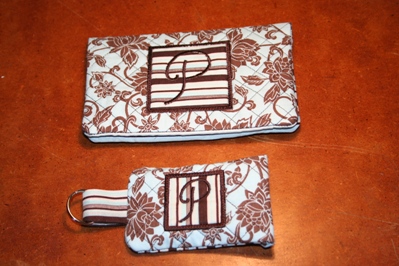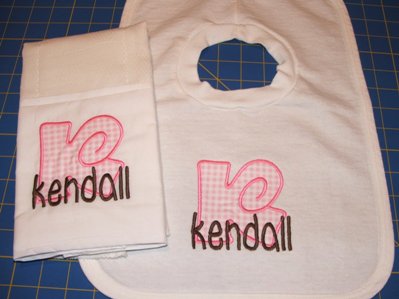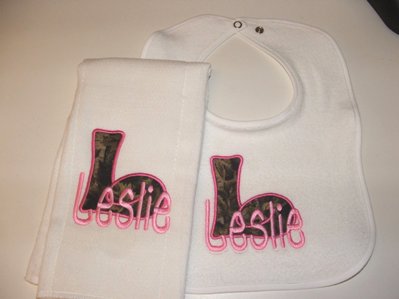 Shannon told me that she loves the
Snips & Snails Applique Font
because there is no trimming 'inside' any letters - VERY QUICK AND EASY.
Great job Shannon!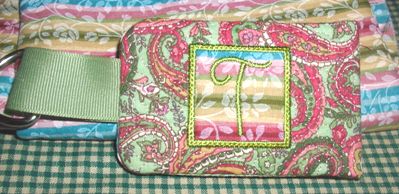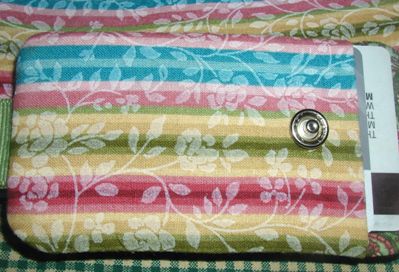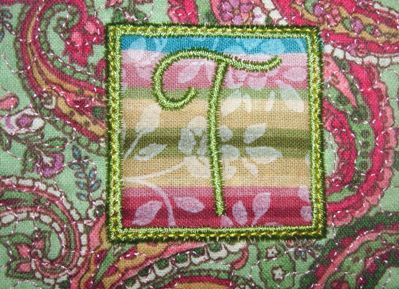 Toni O. has been busy using our
Quilted Monogram Pocket Key Chain
in the hoop design. I LOVE your fabric choices Toni!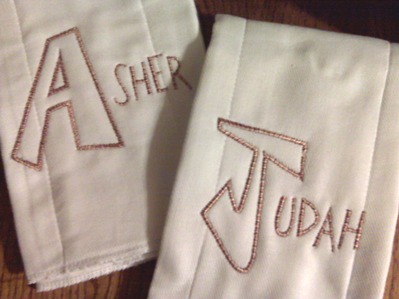 Muffyn H. is at it again! Here she made super cute Burp cloths using our
SPUNKY Applique Font
(without the fabric-QUICK AND EASY) for the Cap letters and our
Tweet Heart Font
for the lower case letters - I love the way you combined 2 different designs Muffyn and the variagated thread is beautiful.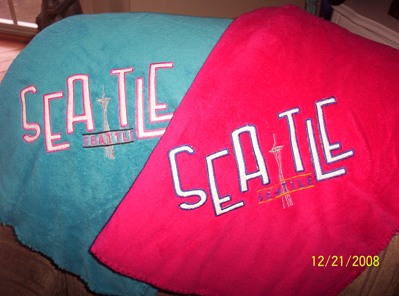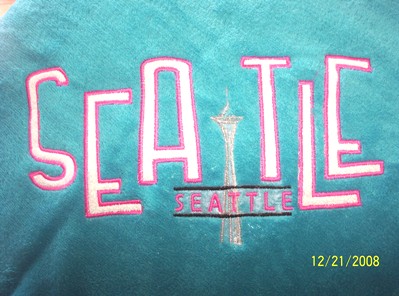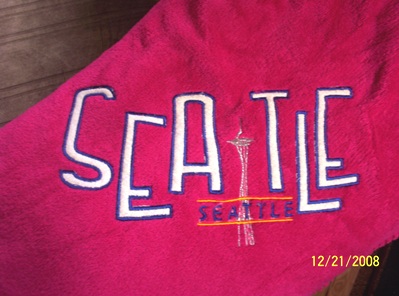 Barbara S. said she had been searching for a Tall and Skinny Applique Font to create her Seattle custom blankets - OMG Barbara, I think our
FREE Rin Tin Skin-ny Applique Font
is PERFECT! Great Job.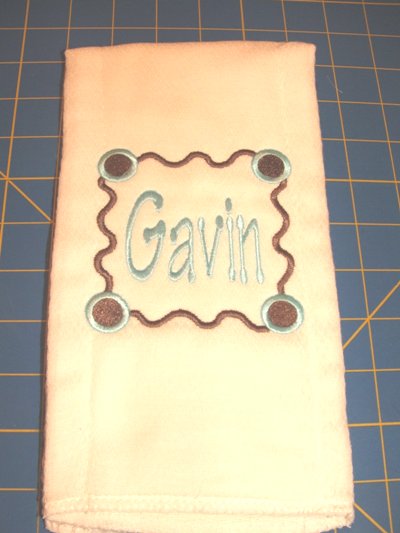 S
hannon B. made this super cute burp cloth for Gavin using our
Font Frame 12
design. The lettering was from Shannon's software.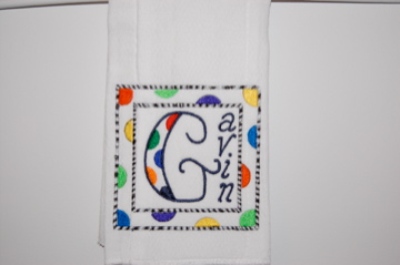 Mary used our
Whimsy Dots Monogram Font
and matching
FREE Whimsy Dots Font Frame
for Gavin's burp cloth. Great Job Mary. I love the variagated thread.
For More Inspiring Projects: