Project Showcase 21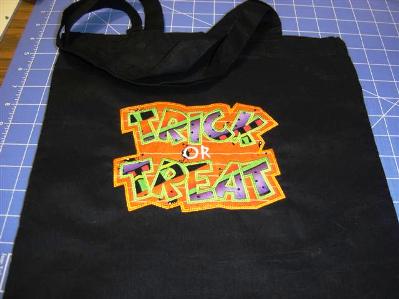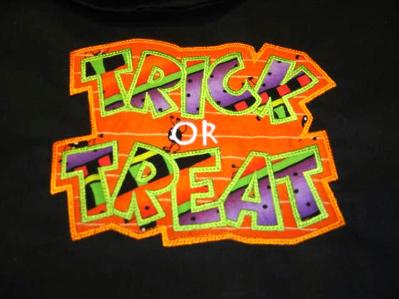 Rachel H. made this super cute Tote/Treat Bag using our Exclusive Trick or Treat Double Applique. LOVE those fabrics, Rachel.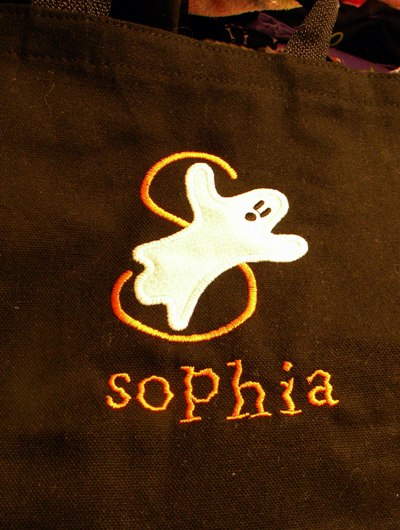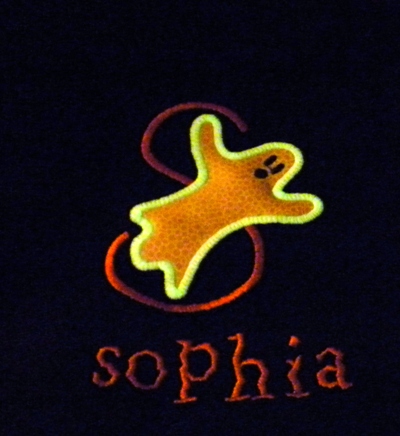 Becky L. used glow in the dark thread on Sophia's Treat Bag for Halloween. I love how that glows! Becky used our Exclusive Ghost monogram Font and Stack Lower case font 13 for the name.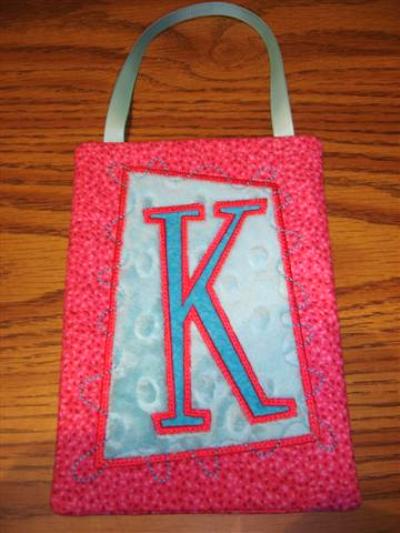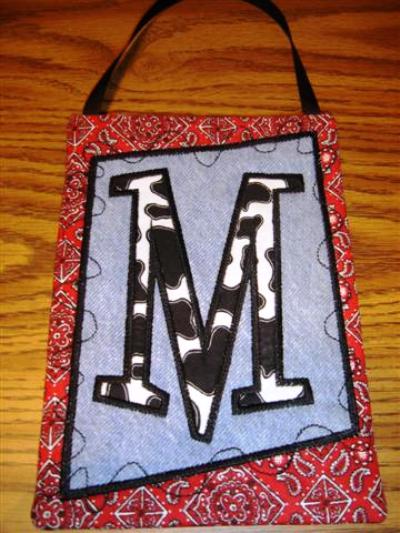 Rachel H. made these terrific banners using our Artsy Monogram Banner In the Hoop Project - OMG the bandana and cow fabric is sooo boy!!!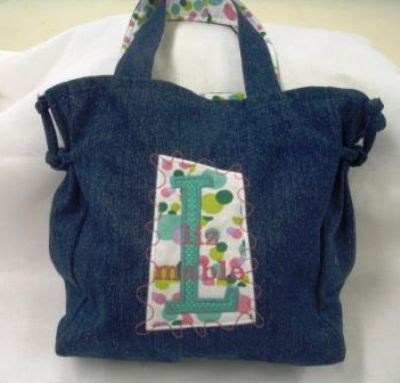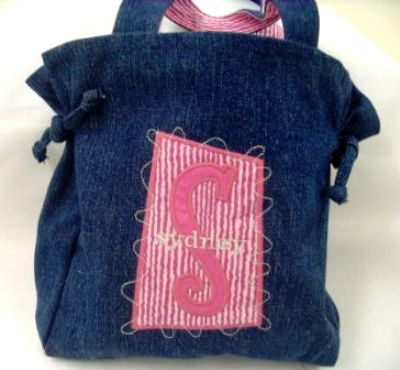 Jenny H. also used our Artsy Banner Monogram in the hoop project but she put them on the most adorable purses for her neice. Great Job Jenny. I love that idea.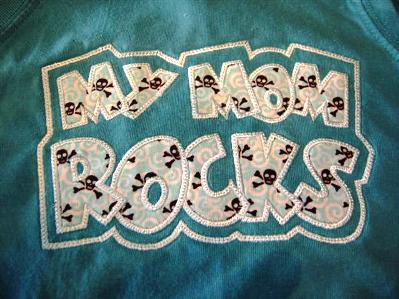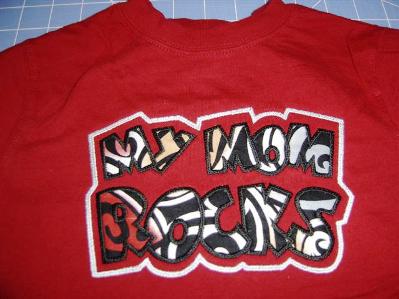 Rachel H says she loves the satin stitch version of our Double appliques. Here she used our Exclusive My Mom Rocks Double Applique on these cute shirts - LOVE that Skull fabric!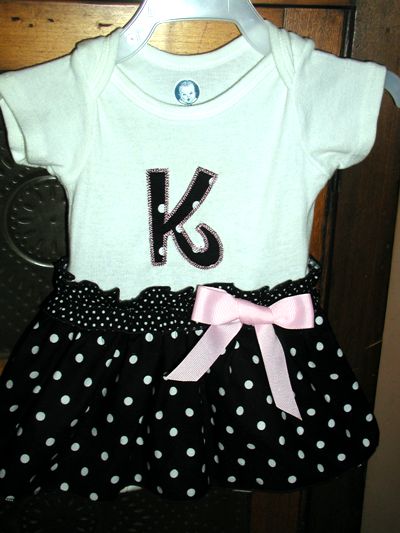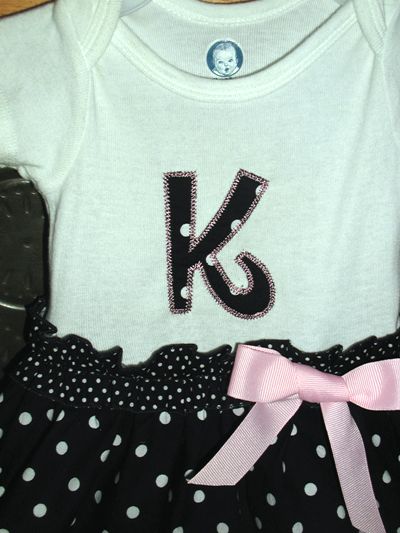 OMG that is the sweetest little onesie dress. Polka Dots and pink bows - adorable. Toni O. has done it again! Great Job. She used our Sassy Applique Font to monogram the dress.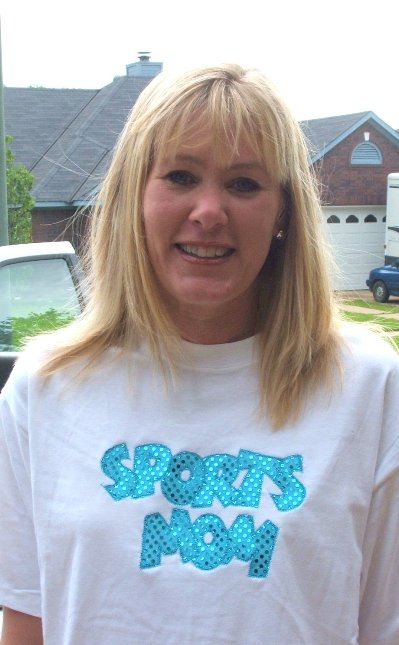 Shannon B found time out of her busy schedule to show her support for the boys. Shannon is definately a busy Sports Mom. She used our Exclusive Sports Mom Double Applique. LOVE that sequin fabric.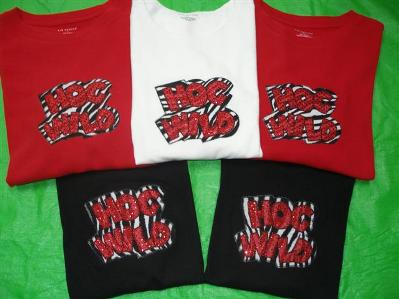 Kathy C. has been super busy making shirts and pillow cases for all those Razorback fans in Arkansas. Love Love Love these Kathy. Great job. Kathy used our Exclusive Hog Wild Double Applique.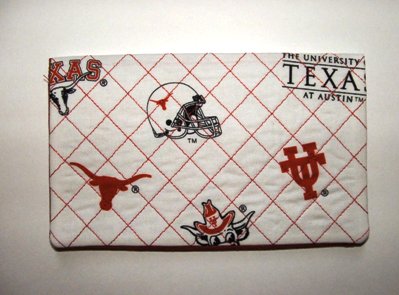 And while we are on the Sports theme, here's a terrific Checkbook cover Shannon B. made using the printed Sports fabrics that are so popular now. GO LONGHORNS! Shannon used our Quilted Monogram Checkbook cover. It comes with all the monogram letters but Shannon used the blank version.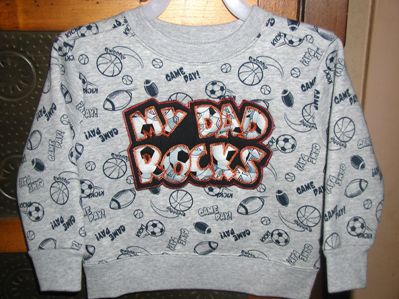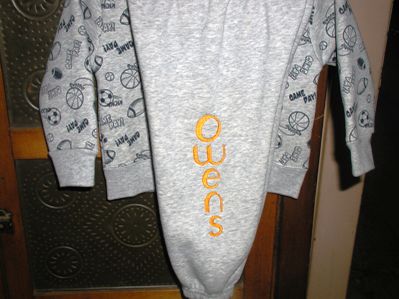 Toni O. is a very busy lady! She just finished up this adorable outfit for Owen. I just love the fabrics. Toni used our Exclusive My Dad Rocks Double Applique on the shirt and our Stacked Lower case font 11 for the name on the pants. Too Cute.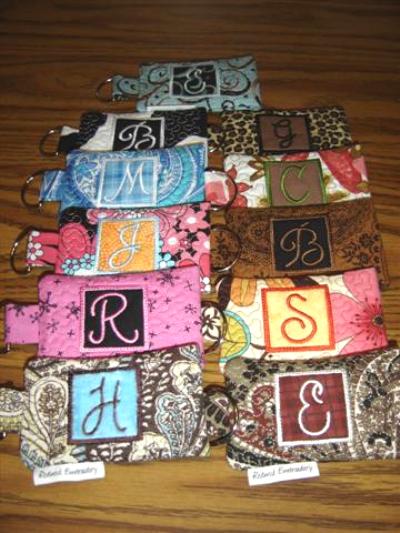 Tell me that Rachel's embroidery business doesn't keep her hopping. LOL! Here's a wonderful assortment she made using our Quilted Monogram Pocket Key Chain in the hoop design. WOW - great fabrics Rachel!