Exclusive WHO DAT Double Applique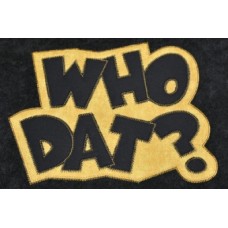 Product Code:
HALN20
Formats Included:
ART, DST, EXP, HUS, JEF, PES, XXX
Formats Coming Soon:
VIP, VP3
Price: $4.99
Exclusive WHO DAT?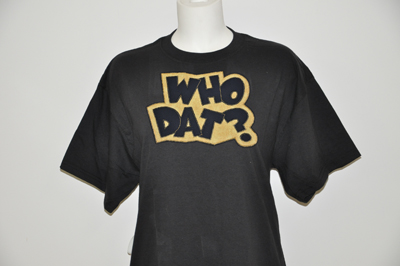 Double Applique
5 Sizes included
5x7, 6x10, 6.25x10.25, 7x11 and 8x12 hoops!
It's been a while since I've released a double applique. This design has been requested many times and I'm glad to announce it's availability.
Use your favorite fabrics. The sequin fabric would look marvelous with this design. Really makes the design POP.
WHO DAT? Double Applique features 5 sizes and 2 finishing stitch styles - classic satin and quick stitching zig zag. The 6.25x10.25 design was used on the adult size Large t-shirt shown.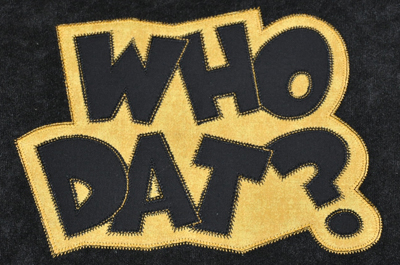 You receive the following sizes in this set:
Note: minimum hoop size required is 5x7
PES - 4.99x6.57 (130x180), 5.70x7.50 (150x250), 6.17x8.13 (160x260), 6.95x9.14 (180x300), 7.83x10.30 (200x300)
DST & EXP - 4.99x6.57 (130x180), 5.70x7.50 (150x250), 6.17x8.13 (160x260), 6.95x9.14 (180x300), 7.83x10.30 (200x300)
ART - 4.99x6.57 (145x255), 5.70x7.50 (150x400)
JEF - 4.99x6.57 (140x200), 5.44x7.16 (200x200)
HUS - 4.99x6.57 (130x180), 5.70x7.50 (150x250), 6.17x8.13 (160x260), 6.95x9.14 (180x300), 7.83x10.30 (200x300)
XXX - 4.45 x 5.86 (115x170) 5.70x7.50 (150x240)
Another fun and exclusive Double Applique design from Five Star Fonts